Rochelle Gilmore plans to support British riders in build-up to Rio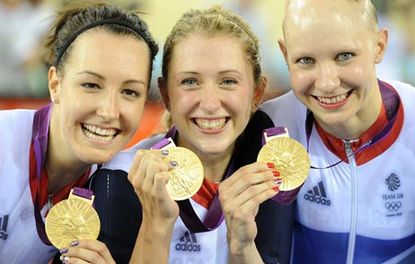 Rochelle Gilmore is hoping to help British Olympic track champions make a seamless transition to the road with her new women's pro team that Tour de France winner Bradley Wiggins has backed.
The DTPC Honda owner, who announced the venture Tuesday, has secured a budget for the next three years, which could take London Games track gold medalists Laura Trott, Dani King and Joanna Rowsell almost all the way through to Rio 2016.
Wiggins has been vocal in his support of women's cycling and committed to Gilmore's project in September. But the latter would not fully elaborate on his involvement since then or going forward.
"I actually didn't need financial backing from anyone apart from the sponsors that I have in place," Gilmore told Cycling Weekly.
"It wasn't exactly about looking for the extra financial support, it was about having Bradley involved in the team. He's not just going out there saying, 'I support a women's team', he's guiding me and giving me advice.
"I approached him and said that I will have a new team. Whether he was going to be involved or not I was still going to have a team with British riders in it. I'd been talking with [performance manager] Shane Sutton and British Cycling for a long time, more than a year ago, about supporting British track riders so I had already approached riders before Bradley decided to come to my team."
Sprinter Gilmore will balance her management role with racing next season and is confident her British-registered squad, although new, will be competitive on the world stage in 2013. Wiggins seems to be providing a professional model that could too give the outfit an edge.
"It's not a specific agreement or relationship with British Cycling," she said.
"I have the support of Bradley, which has made it more interesting to support British women. I've had a lot of discussions with him about which riders to bring into the team and the make-up of the team.
"As far as British Cycling goes, of course there has had to be a little bit of communication. We both have the same interests in supporting the women on the road for the purpose of strengthening on the track and making them ready for the transition when they decide to do that, whether it be in two or three years time, or maybe even after the next Olympics. It's time that they need to be exposed to international road cycling. I'd really like to support them and I've come from a track background and know what's necessary to make that transition. I definitely think I can help the girls make a smooth transition.
"I'm appreciative of Bradley's support and it's a big desire of mine to prove to him that he's made the right decision and provide these girls with a very professional environment, based on the advice that he gives me on how he is looked after in a professional team."
Gilmore will be in the UK later this month to meet with some of her British signings and hold discussions with potential naming rights sponsors.
The 30 year old rode alongside former Olympic road champion, Nicole Cooke this season with the Faren-Honda outfit but has not recruited the Brit ahead of next season.
"Nicole is still a little bit unsure about whether she is going to continue or sign with a professional UCI team for 2013 but we've definitely discussed the possibility," Gilmore said. "It's something I'm open to but hasn't really gone very far, should I say, in confirming anything yet."
Gilmore has secured the signature of Italian double road world champion, Giorgia Bronzini for a reported €60,000. The formation of the Belgium-based team is for the Australian a realisation of a long-term goal, hard work and something she hopes will continue to raise the profile and standard of women's cycling.
"I'm a little bit overwhelmed by the response that we've had," she said. "I've had 500 emails in my inbox and I just don't know where to start.
"I would have liked to do it last year but having my own ambitions for the Olympics I held off ... as soon as the Olympic selection was made and I wasn't a part of that I went to work to put together the team. I've been working on it full-time since July to August.
"We have a four year plan, and some of the sponsors have signed for four years, but the team is very secure for at least the next three years and, to be honest, I won't let this fail. I'm very determined to increase the professionalism of women's cycling and you can't do that if you come and go within three years. I'm in this for the long run and I really hope to make a difference."
Related links
Rowsell, Trott, King and Bronzini on new Wiggins-supported Honda women's team
Thank you for reading 20 articles this month* Join now for unlimited access
Enjoy your first month for just £1 / $1 / €1
*Read 5 free articles per month without a subscription
Join now for unlimited access
Try first month for just £1 / $1 / €1