Valverde back from ban with Movistar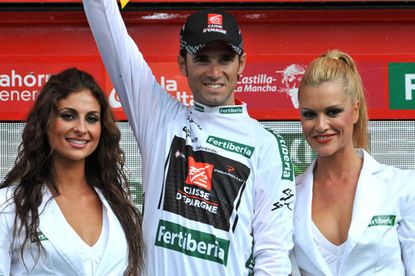 Eighteen months after he last raced his bike, tomorrow (Tuesday) Alejandro Valverde will once again officially form part of a team when he strides onto the stage for the team launch of the 2012 Movistar squad.
Of all the riders implicated in Operacion Puerto, Spain's biggest ever anti-doping investigation that started way back in 2006 but which is still - incredibly - going through the courts, Valverde is the last to end his suspension.
It has been almost 18 months to the day since Valverde last raced, winning the Tour of Romandie in 2010. But then a CAS-imposed ban confirmed a suspension already in force in Italy that saw Valverde stripped of all his victories in 2010, and barred from racing until January 1, 2012.
Since then Valverde has re-signed with Movistar, the successor of Illes Balears and Banesto, and as such Spain's top team. Valverde joined the squad in 2006, and then took the Vuelta in 2009, the opening stage and the lead of the Tour in 2007, the Clasica San Sebastian in 2008 and both Liege-Bastogne-Liege and the Dauphine Libere twice. Tomorrow, Valverde will be confirmed as part of their 2012 line-up, with the Tour Down Under almost certain to be his first race back.
According to El Pais newspaper, in an interview with Movistar medic Jesus Hoyos, Valverde will have little difficulty getting back into racing. He has apparently done 48,000 kilometres in training this year, and weighs 60 kilos - less than in his last Tour. Hoyos even claimed, although this may have been tongue in cheek, that Valverde was doing 3,000 press-ups a day!
However easy it is for Valverde, now 31, to return to racing on a physical level, though, his failure to confirm his links to Puerto, a denial which dogged his career from 2006 onwards, will not be easily forgotten by some fans either.
Related links
3 June 2010: Valverde defiant over ban: "I will be back"
16 March 2010: Valverde faces worldwide ban after losing appeal against Italian suspension
19 June 2009: Valverde appeals against Italian ban
11 May 2009: Valverde banned from racing in Italy for two years
Thank you for reading 20 articles this month* Join now for unlimited access
Enjoy your first month for just £1 / $1 / €1
*Read 5 free articles per month without a subscription
Join now for unlimited access
Try first month for just £1 / $1 / €1