The new Garmin Edge Explore 2 is simple to use, so you can just get out and find new routes to ride
Easy set-up but loads of functionality for the leisure rider and explorer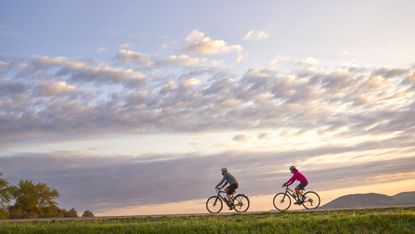 (Image credit: Garmin)
If you're looking for a cycling computer that helps you find new, less busy routes, take a look at the new Garmin Edge Explore 2 (opens in new tab). If you ride an e-bike, it will help you keep tabs on your range and battery life too.
The Edge Explore 2 is designed to be easy to set up. You can just switch it on, attach it to your bike and you're ready to ride. There's a bright, three inch colour touchscreen and the Edge Explore 2 comes pre-loaded with Garmin's high contrast cycling-specific basemaps for road riders and off-road riders and including points of interest specific for riders, like cafes and bike shops.
The screen is designed to be easy to read in sunlight and to operate with gloves on or in the wet. The Edge Explore 2 is IPX7 water resistant as well, so it doesn't mind being out in the rain. You can even get weather alerts on the Edge Explore 2, when you pair it up to your smartphone.
So many cyclists use Garmin devices, that it has a really comprehensive record of where other cyclists ride. That means that the Edge Explore 2 is set up to steer you along popular cycling routes and trails and keep you away from busier roads, which are also highlighted, so that you have a more enjoyable, low traffic ride. You'll maybe find some shortcuts that only the local cyclists know.
If you want to follow a pre-planned route, Garmin Connect lets you map out routes on your computer or smartphone at home and upload them wirelessly to the Edge Explore 2. You can also plot out or replan routes on the device itself or ask it to plan a route to a point of interest or specific location. If you prefer, you can easily add routes plotted out on Komoot, Strava or other mapping apps.
The Edge Explore 2 will give you turn-by-turn navigation prompts as you ride. If you go off-course, it will guide you back to your planned route, or you can tell it to plot the best route back to your start point. When you hit a hill on your planned route, the Edge Explore 2 will automatically launch ClimbPro, which gives you a profile of the climb, colour coded dependent on the gradient, along with how much further it is to the top.
Once you get back, your route is wirelessly transferred to Garmin Connect, so you can see where you've ridden, how far and how fast and how many calories you've burned. You can also send your ride data out automatically to other apps like Strava if you prefer to view it there. The Edge Explore 2 can store up to 200 hours of ride data on-device too.
Hooks up to e-bikes
If you ride an electric bike that has ANT+ connectivity built in, you can link up your Garmin Edge Explore 2 wirelessly so that it gives you information on your e-bike's battery level, the assistance level selected and an estimate of your available range, so that you always know how far you can ride.
Many bike computers major on honing your performance and monitoring stats like your pedalling efficiency. That's not what the Garmin Edge Explore 2 is designed to do. Although, like other computers, you can hook it up to a heart rate monitor or even a power meter, it's not designed to analyse every pedal stroke.
Battery life of the Edge Explore 2 is great, with up to 16 hours run time. It's also compatible with Garmin's latest Edge Power Mount. This can be plugged into the battery on many e-bikes, power packs like that on the Cannondale Synapse SmartSense bikes or a USB power bank to charge the Edge Explore 2 on the go.
Keeps you aware of what's going on around you
The Garmin Edge Explore 2 also helps you keep aware of your surroundings. You can link it up wirelessly to Garmin's Varia rearview radar (opens in new tab) devices, which detect vehicles approaching from behind up to 140 metres away. The Edge Explore 2 will give you an audible alert that a vehicle has been detected and display how close it is and how fast it's approaching.
There are three Varia options: the Varia RVR315 just has a rearview radar that detects vehicles, but the Varia RTL515 also includes a rear light, while the RCT715 has both a taillight and a camera that records events behind you. You can also link to a Varia front light and control it via the Edge Explore 2.
Keeps you in contact
There's lots of functionality in the Edge Explore 2 to keep in contact as you ride. You can link up via your mobile phone's mobile network with your fellow riders in a group, so that you know where everyone is and you can message other group members. You can also get notifications of incoming phone calls and texts on screen and let other people who aren't riding with you track your location as you ride.
If you were to have an accident, the Edge Explore 2 includes incident detection functionality and can alert named contacts via your phone. Plus there's a bike alarm built into the Edge Explore 2 that will alert you on your phone if your bike is moved while you're away from it.
Prices and options
It all adds up to a package that's great for the leisure cyclist and for exploring your surroundings with confidence on your bike. There are loads of things you can do on your Edge Explore 2, but if you just want to get out and ride, it's quick and easy to set up and use.
Prices for the Garmin Edge Explore 2 start at £249.99 in the UK or the power bundle costs 339.99. In the US, the Edge Explore 2 costs $299.99 or $399.99 bundled with the Power Mount. There's more info on Garmin's website (opens in new tab).
Thank you for reading 5 articles this month* Join now for unlimited access
Enjoy your first month for just £1 / $1 / €1
*Read 5 free articles per month without a subscription
Join now for unlimited access
Try first month for just £1 / $1 / €1