Why ROUVY is the ideal riding partner for women cyclists this spring
For women who want to keep up their fitness routine, ROUVY is the ideal riding partner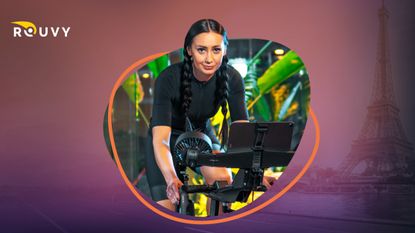 (Image credit: Rouvy)
There's no denying it, winter can often feel like the enemy when it comes to staying in shape. You know the routine – you have all these good intentions about getting out on your bike and clocking up miles on the road as you would through the summer. Then you take a look through your window and decide that, actually, you're probably better off wrapped up inside with a hot drink and a good movie.
And even though we're heading into spring, that doesn't mean we're all chomping at the bit to get back outside. Sure, it's getting a bit warmer and the days are getting longer, but it's still rather colder and wetter than a lot of us would like.
If you've been putting your fitness on hold through the winter, however, cycling app ROUVY is a great way to get yourself moving again. It's your chance to ride some of the best, most exciting routes in the world, without even setting foot outside the front door – and it's whole lot safer than venturing out on real-life roads on evenings that are still colder and darker than we'd like.
Getting started on ROUVY is easy. All you need is a cycle trainer (smart bike, direct-drive or classic trainers all fit the bill), a display (ROUVY is compatible with Windows PC, Mac, Apple TV, mobile phone and tablet), and your road or mountain bike. Then, with a monthly subscription, you'll have access to more than 700 realistic cycling routes from around the world – and a cast-iron guarantee that bad weather isn't going to spoil any of them.
ROUVY have been specialists in indoor cycling training for nearly 20 years, so you can rest assured that they have an exercise programme to suit your level. Whether you're a beginner, an avid cycle racer or a new mum getting back in the saddle after a year or two away, ROUVY can guide you through a training regime that's tailored for you and your ability on the bike.
Using the ROUVY app, you can climb through 80 Career levels, working your way from complete beginner to legend status – it's a process that rewards hard work, with no short cuts! As you ride, you get real-time feedback on how much effort you're putting in, interval timings, and other analytics that make it easy to keep track of your progress. You can also take part in virtual events and races that invite you to pit yourself against other riders.
And if you're not feeling competitive, the ROUVY Regulars (opens in new tab) weekly scheduled rides include a dedicated Femmes section. This features regular, friendly and sociable women-only rides, where racing and topping the podium are not on the agenda, and we reckon you'll want to make space in your diary for Wednesday's rides around beautiful coastlines and Saturday's spins through iconic cities.
Indeed, the chance to explore more than 15,000 kilometres' worth of iconic routes from all over the world is the one of the things that makes ROUVY fun. The app is your ticket to over locations that many cyclists include on their bucket lists, whether it's the spectacular scenery of the Alps, glorious sunshine in Vietnam, or city tours of London and Paris where – for once – traffic won't get in the way. Not only is getting there as quick as tapping your screen, it's also easier on your bank balance and your carbon footprint.
When conditions become a bit more favourable to cycling in the summer, getting back on the road doesn't have to mean the end of your ROUVY journey. The app can log your outdoor training efforts so they count towards your Career goals, and – when it's too hot outside, or you just want an alternative to your usual cycling routes – you can always hop back on your indoor trainer.
ROUVY offers a 14-day free trial so you can give it a go before subscribing, and with family sharing, two other members of your household can come along for the ride, absolutely free. It's time to get riding – all year round.
For more info, visit rouvy.com (opens in new tab).
Thank you for reading 10 articles this month* Join now for unlimited access
Enjoy your first month for just £1 / $1 / €1
*Read 5 free articles per month without a subscription
Join now for unlimited access
Try first month for just £1 / $1 / €1