Fizik Take seatpack review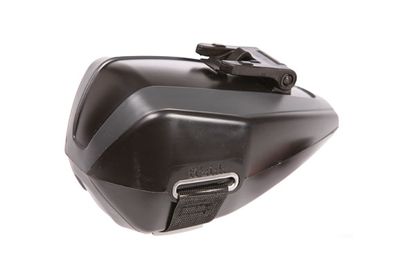 ICS is still a great idea but needs some more refinement to make it a must-have item for Fizik users.
Fizik has a long history of making saddles with ICS clips underneath, but the related pack has always under-performed.
With the Take, Fizik claimed to have cracked it. Sadly, only in some regards.
The mounting clip is a great idea; it's neat, easy to use and should be secure, so it'll protect your saddle and seatpost from friction damage.
Even though the Take is an odd shape, I was surprised to find that I could fit two tubes, cartridges, etc. It was tested while well loaded up.
Till this point, all seemed good, but sadly it wasn't to last.
Instead of the pack hanging neatly under the saddle, the pivot's indexing was overloaded by bumps, and the bag started to move around, striking the saddle before hanging limply in the airflow.
Thank you for reading 10 articles this month* Join now for unlimited access
Enjoy your first month for just £1 / $1 / €1
*Read 5 free articles per month without a subscription
Join now for unlimited access
Try first month for just £1 / $1 / €1