Reviewed: Lead Out!'s popular and affordable Mini Handlebar and Frame Bags
Bike bags for everyday riders who want to carry only the essentials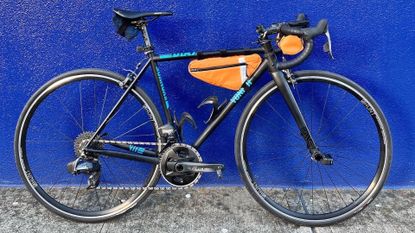 (Image credit: Anne-Marije Rook)
Small but feature-packed, Lead Out!'s mini bags proved to be durable and capable companions for those needing to carry only the essentials
Reasons to buy
+

Durable

+

Quality materials

+

Feature-packed

+

Wallet-friendly

+

Fits most bikes
Reasons to avoid
-

Limited space

-

Not the lightest

-

Not waterproof
Custom-made, hand-sewn, designer print, weatherproof — these days, bike bags have become as much of a statement of personality or flare as they are utilitarian. The bike market has become absolutely flooded with bags of all shapes and sizes for every bit of free space on your bike. It seems that carrying anything in your jersey pockets — or even having jersey pockets— is a thing of the past.
Standing out in this market is nearly impossible. Los Angeles-brand Lead Out! hopes to find its niche in offering high-quality and durable products that are not only ethically made but also easier on the wallet than traditional cycling retail.
And in a sea of increasingly capable and voluminous bikepacking and adventure-oriented gear, Lead Out! stays in the lane it knows best: the urban riders and road racers of Southern California.
Aptly named the Mini Handlebar Bag and Mini Frame Bag, Lead Out! serves those who need just a little bit of extra space or simply those wanting to ride without carrying anything on their person more so than riders going on overnight excursions. At least for the time being, as the brand is still quite young.
Lead Out! was founded in 2020 by first-time business owners Jonathan Miller and Trevor Lien, two former Cat 1 racers turned self-proclaimed "casual athletes" with a passion for cycling and the awareness that disposable income can be limited.
"We wanted to come to the market with something that somebody like myself when I was in college and had like no money, could afford and would be amped on. Something made from high-quality fabrics from ethical factories that would be a durable piece of gear," Lien told Cycling Weekly.
Their first product was a simple and understated compact handlebar bag. Something that will hold the essentials — a pump, a tube, a multitool, some ride food and maybe a wind jacket — and nothing more. Lien and Miller have since expanded their offerings, adding frame bags, saddle bags, a premium Dyneema line, and even a few soft goods. But the Mini Handlebar Bag remains the brand's best-seller. And Lien says Lead Out! can even be considered a market leader in that space.
"I think we outsell a lot of competitors. And I want to say that humbly, but I think we lead with probably the best marketing for direct-to-consumer products," he said.
We received one of the Mini Handlebar Bags along with a matching Mini Frame Bag for review, so let's see what makes this bag such a popular item.
Lead Out!'s Mini Handlebar Bag
Price: $40
Size: 1.3 liters of storage (8" x 3.5" or 20.3cm x 10.16cm)
Weight: 80 grams on my kitchen scale
Material: Water- and muck-resistant 840D Ballistic Nylon Carbonate
Colors: Black, green, grey, orange, navy and white
The Mini Handlebar Bag is true to its name. Just eight inches in length and with a carrying capacity of 1.3 liters, this bar bag is indeed quite small. This is both a good and maybe a bad thing, depending on what you're looking to carry. My hand pump narrowly fits in length, and the bag is quickly filled with the fix-a-flat necessities, a nutrition bar, and, maybe, a set of gloves. But for the average road ride, I wouldn't be carrying much more than that anyway.
And where it lacks in size, it's packed with features.
First up is the construction. Weighing in at 80 grams on my kitchen scale, the bag has got some robustness to it. It is made of a lightly padded, multilayered Ballistic Nylon Carbonate that's treated with a muck- and water-resistant, environmentally friendly DWR coating.
The bag is sturdy and well-constructed. It holds its cylindrical shape and seems to be pretty tear-proof and durable. The rubber-coated zipper pulls are long and easy to use, even with bulky gloves on. The closures themselves are made of water-repelling YKK Aquaguard zippers. And yes, that zippers, plural.
The bag sports one full-length zipper to access the main compartment as well as a small side compartment with its own zipper. Teensy, this compartment could be a case of over-engineering or unnecessary complexity, yet it's also rather clever. Barely more than 2" x 2" in size, this side compartment is perfect for a house key or garage opener in lieu of a main compartment key hook you see in so many other bags. Thanks to its side access, you don't have to go digging through the main compartment to locate that key, dollar bill, or garage fob that always seems to make its way to the very bottom corner of the bag.
To further keep things organized, the main compartment features an elasticized mesh divider. Is this too many compartments or too much complexity for such a small bag? Perhaps. But I'm not not into it.
The bag attaches to the handlebar using two webbed nylon straps, which, similar to some of Ortlieb's bike packing bags, use a cam lever buckle to lock the straps in place. The excess straps tuck away neatly in some elastic loops. To prevent the bag from bumping around, there's a tether cord to wrap around your steerer tube or stem, but in my experience, the bag stays out fine without the cord.
All in all, while small, the Mini Handlebar Bag has room for all the basics, looks tidy, fit on even the narrowest of drop bars as well as below an out-front computer mount, and, most importantly, it doesn't bop around much.
The Rapha-esque reflective strip is a nice touch as well, both aesthetically and for those riding in low light.
Lead Out!'s Mini Frame Bag
Price: $75
Size: 1.3 liters of storage (9in x 13in x 7in or 23cm x 33cm x 2.7cm)
Weight: 145 grams on my kitchen scale
Material: Water- and muck-resistant 840D Ballistic Nylon Carbonate
Colors: Black, green, grey, orange, navy and white
Identical in its materials, attachment points and construction, the Mini Frame Bag can be used in conjunction with or in lieu of the Mini Handlebar Bag.
Like its collection sibling, the frame bag is robust, well-constructed and durable. I found that the lightly padded construction helped the bag keep its shape, regardless of the bag's contents, while also keeping any rattling or clunking at bay.
The frame bag is also, as the name suggests, rather compact. In my case, this is a good thing. Standing tall at 5 '5" on a good day, I usually ride a bike frame in the 49cm to 52cm range. As such, my bikes tend to have a smaller triangle, and more often than not, I can either carry two water bottles or a frame bag but rarely both. With Lead Out! 's Mini Frame Bag, I don't have to choose. The bag fits as though it were custom-made. Neatly tucked in the front corner, I can reach both bottle cages as well as the contents inside the frame bag.
Image 1 of 2
The bag is attached using three scratch-free velcro straps to the top tube, one on the downtube, and an optional tether cord for the headtube. The straps are long enough to accommodate a variety of tube diameters, and for a narrower tube, I'd recommend trimming them down to avoid any knee rub.
The bag features two compartments, one on each side, that are accessed using the same water-repelling YKK Aquaguard zippers as on the handlebar bag. Here too, the rubberized zipper pulls are quite long but can be tucked away inside zipper garages on the headtube side of the bag.
The left side compartment is the smaller of the two. Small and narrow, this compartment fits little more than a smartphone, a bar, or perhaps a slim wallet or tubolito tube.
The right side compartment is a little more spacious — deceiving so. I managed to fit an Outbound light in there alongside a hand pump, a multitool and tire levers — all without creating any obstructive bulk. The bag measures about 2 inches in width, and overstuffing the compartment will make the bag bloat outward and in your knees' way.
The bar and frame bags are very comparable in what they can hold capacity-wise but if you're carrying anything wider than a pump, you're better off with the bar bag. In general, I think I would have preferred a single side access to make use of the full compartment rather than sacrificing space to add a second compartment complete with its own zipper and padded walls. It almost feels like there's more material here than there is storage space.
Value and Conclusion
In my time using the bags, they've proven to be durable and capable companions. They're not the lightest, most spacious bags —even for their size— but they'll last you a long time and carry the essentials in style.
My only wish, living here in the Pacific Northwet, is that they were actually waterproof rather than just water resistant. After some time in the unrelenting rain, the bags hold moisture rather than repelling it, weighing down the bags in the process and eventually affceting the bags' contents.
With that said, at $40, the Mini Handlebar Bag is an exceptional value. You'd be hard-pressed to find a bag equal in its construction, features, and durability at that price point.
The Mini Frame Bag left me wishing for less complexity in favor of less material and more storage room. A single-side access with a more voluminous compartment would be my preference. The construction and material of the bag, however, is nothing short of premium. Again, for $75, it's a value, feature-packed product.
Thank you for reading 10 articles this month* Join now for unlimited access
Enjoy your first month for just £1 / $1 / €1
*Read 5 free articles per month without a subscription
Join now for unlimited access
Try first month for just £1 / $1 / €1
Cycling Weekly's North American Editor, Anne-Marije Rook is old school. She holds a degree in journalism and started out as a newspaper reporter — in print! She can even be seen bringing a pen and notepad to the press conference.
Originally from The Netherlands, she grew up a bike commuter and didn't find bike racing until her early twenties when living in Seattle, Washington. Strengthened by the many miles spent darting around Seattle's hilly streets on a steel single speed, Rook's progression in the sport was a quick one. As she competed at the elite level, her journalism career followed, and soon she became a full-time cycling journalist. She's now been a cycling journalist for 11 years.