Look 785 Huez RS review
The show stopping new climbing bike from French innovator Look is nearly a full kilo under the UCI weight limit in this – unballasted – pro team build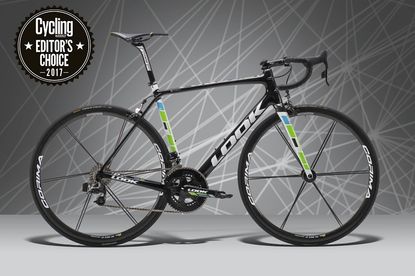 French brand Look is responsible for two of modern cycling's greatest innovations: it produced the first carbon bike to win the Tour de France and pioneered the clipless pedal. Just in time for Cycling Weekly's Editor's Choice 2017 it launched the 785 Huez RS, a wonderfully light climbing machine with a divine ride quality.
The 785 Huez RS is Look's all-new climbing bike that it launched just before the Tour de France at – no prizes for guessing – Alpe d'Huez. The Huez name commemorates Greg LeMond's 1986 Tour de France victory, which he wrapped up on Alpe d'Huez riding a Look – which became the first carbon-fibre bike to win the Tour.
This is the Fortuneo-Oscaro pro team version with SRAM Red eTap and the stunning-looking Corima 32 MCC S+ wheels.
In this build the Look 785 Huez RS weighs a ridiculous 5.9kg, almost a kilo under the UCI weight limit. The Fortuneo team have to add lead weights to ballast their bikes up to the mandatory 6.8kg – its frame weighs just 730g – but we're lucky enough to be able to ride it as its designers intended, and it's absolutely incredible.
Perfect balance
Look used what it calls optimised inertia section, manipulating the tube shapes to allow a frame to be made light yet strong and stiff, and the 785 is the perfect balance of all three. Despite being light enough to lift with your little finger it has the super-efficient power transfer of a top pro bike, shooting forward at the merest nudge of the pedals.
As you'd expect, it it's on the climbs where it really excels. We rode out to a local hill that ramps up gradually to a 9.9 per cent final half-kilometre. The Look was a full 10 seconds faster on the Strava segment for that section than the quickest of our 20 previous efforts.
The tubes are made from multiple layers of carbon-fibre a hundredth of a millimetre thick. Seven different types of carbon were used including ultra-high modulus with – unusually – some glass fibre added to the seatstays for comfort.
On the subject of comfort, Look says it also developed the 785 Huez for regular cyclists and lovers of long-distance riding and we can confirm that there's plenty built in for sportives and gran fondos. Unlike some pro bikes, the Look doesn't beat you up – we've found it's as good for easier-paced all-day riding as it is for aggressive, all-out hill sprints.
SRAM Red eTap is the perfect groupset to showcase the unmatched responsiveness of the Look 785 Huez RS frame. Razor-sharp shifts with pinpoint precision plus the intuitive double-handed front derailleur-changing system all enhance the riding experience.
So Look has got everything right with the 785 Huez RS. It might appear slightly more traditional in its appearance than some of the French brand's past, more idiosyncratic, designs but behind the straight tubes is a super-sophisticated, state of the art frame, reflected in a price of £8,700 for this build.
Thank you for reading 10 articles this month* Join now for unlimited access
Enjoy your first month for just £1 / $1 / €1
*Read 5 free articles per month without a subscription
Join now for unlimited access
Try first month for just £1 / $1 / €1
Simon Smythe is a hugely experienced cycling tech writer, who has been writing for Cycling Weekly since 2003. Until recently he was our senior tech writer. In his cycling career Simon has mostly focused on time trialling with a national medal, a few open wins and his club's 30-mile record in his palmares. These days he spends most of his time testing road bikes, or on a tandem doing the school run with his younger son.