2013 Pearl Izumi Tour Series schedule confirmed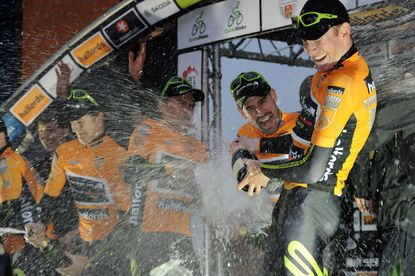 The 2013 Pearl Izumi Tour Series will comprise of 12 races across 11 rounds, Cycling Weekly can reveal.
Having been introduced in 2012, the Grand Final of the series - which this year takes place in Ipswich - will again comprise of a team time trial and a criterium.
The only other new addition to the calendar is round 10 host Aysham. With a population of around 5,000, it is the least-populated host venue since the series began in 2009.
Kirkcaldy will open the series for the second year in succession, Durham, Aberystwyth, Redditch, Canary Wharf and Woking all return for another year and Stoke-on-Trent's ever-present record in the series remains intact. A return to the Potteries looked to be in doubt as the city's council looks to make cuts of around £50m.
The Johnson Health Tech GP Series for women be fought out on the streets Stoke-on-Trent, Colchester, Woking, Aysham and Ipswich.
For the second year running, CW predicted how the series would look. Last year we correctly identified eight of the 11 locations and dates, this year we managed nine. Well done us! The correct schedule is listed below.
TOUR SERIES 2013 SCHEDULE
Round one: May 14 - Kirkcaldy
Round two: May 16 - Durham
Round third: May 21 - Stoke-on-Trent
Round four: May 24 - Aberystwyth (Friday round to form part of the Aber Cycle Fest )
Round five: May 28 - Torquay
Round six: May 30 - Colchester
Round seven: June 4 - Redditch
Round eight: June 6 - Canary Wharf
Round nine: June 11 - Woking
Round 10: June 13 - Aylsham
Round 11: June 14 - Ipswich (two rounds: a team time trial and a criterium)
Related links
East Anglian finish to 2013 Tour Series
Thank you for reading 10 articles this month* Join now for unlimited access
Enjoy your first month for just £1 / $1 / €1
*Read 5 free articles per month without a subscription
Join now for unlimited access
Try first month for just £1 / $1 / €1
Nick Bull is an NCTJ qualified journalist who has written for a range of titles, as well as being a freelance writer at Beat Media Group, which provides reports for the PA Media wire which is circulated to the likes of the BBC and Eurosport. His work at Cycling Weekly predominantly dealt with professional cycling, and he now holds a role as PR & Digital Manager at SweetSpot Group, which organises the Tour of Britain.