50 most thrilling performances by British riders in international races Part two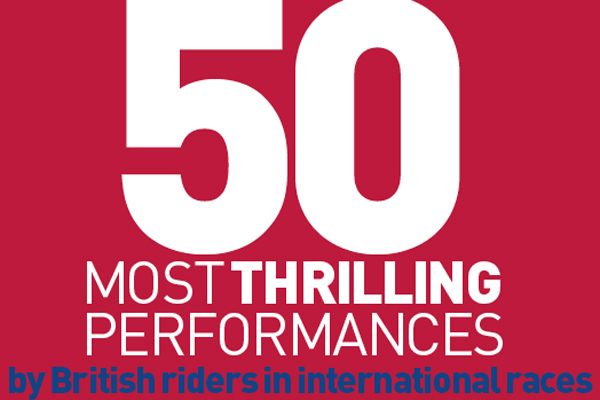 >>>50 most thrilling performances part one>>>


We aren't saying these are the best performances by British riders ever, and they certainly aren't ranked in that order. They are ranked simply and subjectively on their excitement and their impact at the time they happened. Some races we witnessed, some we only read about, but they contribute some very special pages in the story of British cycling.
25 - Chris Boardman's 1992 Olympic gold medal
Only those very close to him thought Boardman would win this. For everyone else he was a time trial specialist when speedy powerful road racers, who were also good on the track, won pursuits at world level. Hugh Porter, Tony Doyle or Colin Sturgess; all of them pursuit world champions in the years before Barcelona, and all of them with a good road race pedigree. But that was mystique, and Boardman and his coach Peter Keen paid no attention to mystique.
Keen was ruled by the empirical evidence of science. And science says the pursuit is physics. It's power output over aerodynamic drag, and Keen knew how to increase the former, while he used experts to reduce the latter. Boardman had the genetics for a pursuit-length burst of power, and Keen unlocked it with the correct training. Mike Burrows weighed in with the most aerodynamic bike in world at the time, the Lotus.
Boardman thundered through to the final, where he demolished the German favourite Jens Lehmann to take the first British Olympic gold medal in cycling since Thomas Lance and Harry Ryan won gold in the tandem sprint in 1920. And that, in 1992, was exciting. It also felt like the start of something even bigger.
24 - Jason Kenny, 2012 Olympic sprint final, round one
This was a match sprint performance for connoisseurs. Not only was Kenny better tactically than Baugé - he dummied the Frenchman into making a mistake, he was much faster too.
It was beautiful to watch. Round two was less beautiful but just as exciting. Kenny wasn't the master tactically, so simply being the fastest got the job done for him.
23 - Robert Millar wins stage 10 of the 1983 Tour de France
This was Millar's first Tour, it was the first mountain stage of the 1983 race, and it was Millar's first stage win. He dominated a stage that contained the Col d'Aubisque, the Tourmalet, Aspin and Peyresourde.
He climbed brilliantly and descended flawlessly to victory in the streets of Bagnères de Bigorre, six seconds ahead of Pedro Delgado, to become the first British stage winner since Barry Hoban in 1975.
22 - Victoria Pendleton's Worlds sprint semi-final, 2012
Anna Mears looks like a sprinter, thinks like a sprinter and races like a sprinter. In contrast Victoria Pendleton was simply fast. Faster than Mears, which meant Mears often relied on tactics, some of them were rough tactics too. She thought Pendleton could be intimidated, and would make mistakes if she was, so she tried to intimidate her on and off the bike.
It didn't work really. The only person who could beat Victoria Pendleton was herself, and when she was in control of that threat, she was unbeatable.
Pendleton easily won the first leg of their 2010 Worlds semi-final, so Mears had to win the second. Tactically she did everything right, she even tried a bit of intimidation, but Pendleton flew past in the last metres to win by a tyre width.
21 - Brian Robinson takes Britain's first ever Tour de France stage win, 1958
Robinson broke away on the stage to Brest with Italian Arigo Padovan and the first French winner of the Vuelta, Jean Dotto. Dotto was dropped before the finish, a long straight drag.
Padovan started the sprint on the left, so Robinson went on the right and Padovan veered across to block him. Robinson backed off then went on the left, only for Padovan to switch him again, but this time they'd gone over the line. Padovan was given the verdict at first but Robinson protested and the decision reversed.
20 - Beryl Burton wins 1967 road World Championships
Beryl Burton was born at the wrong time. Not only was she the best women's bike racer of her era, she could be the best of all time; except we'll never know because there just wasn't the international competition for women that there is now. However, what there was, Burton won.
She was five times world pursuit champion and won three silver medals and three bronze. She was also world road race champion twice. There was no women's World Cup, no women's cycling events in the Olympics, and only the sprint, pursuit and road race in the Worlds.
Victory had an air of inevitability with Burton. She had one tactic, start hard and then ride harder. She shook the 1967 women's road race with a series of stinging surges from the moment it began. Finally, everyone except for one rider - Russia's Ludmilla Zadorzhnaya - let her go.
All Zadorzhnaya could do was hold on. Then as Burton accelerated she couldn't do that anymore. Burton time trialled to the finish, nearly two minutes ahead of Zadorzhnaya and over six minutes clear of the rest.
19 - Barry Hoban finishes third, 1972 Paris-Roubaix
One of Hoban's dearest cycling beliefs is "ifs and buts don't win races" but Paris-Roubaix in 1972 contains both. If he hadn't punctured in the Arenberg Forest and suffered a collapsed wheel, Hoban could have won instead of finishing third.
He was flying, only for the puncture to cost him two and a half minutes. Undeterred, Hoban pressed on until he reached the front again, only for the wheel to go. He got another one, chased again and reached the break just after Roger De Vlaeminck then André Dierickx had attacked. By now, Hoban was on the last cobbles at Hem.
He went again, closing on the front two all the way to the velodrome, to finish alone in third, 90 seconds behind the winner, De Vlaeminck, having lost double that through bad luck. A great ride but it's also Hoban's biggest regret.
18 - Chris Boardman's Tour de France prologue record
Boardman says he went to the 1994 Tour de France for eight minutes and the rest went for three weeks, but that does nothing to detract from his victory.
Boardman set a Tour speed record that still stands, tearing around the streets of Lille at 55.152 kph average, catching the French rider Luc Leblanc. Leblanc had been very disparaging of Boardman the previous year, saying that half the pro peloton could probably beat Boardman's new Hour record. Well string that up with your onions, Frenchie!
17 - Tom Simpson takes 1961 Tour of Flanders
Simpson is still the only native English-speaking rider to win the Tour of Flanders. It's an incredible race, one of the last bastions of an older kind of cycling. But what is more, Belgians have won 68 out of the 97 editions. It's that precious to them.
Even in the last 10 years, even with the huge talent pool there is in men's pro cycling now, Belgium leads the rest of the world six to four. What chance did a 22-year-old Brit have of winning it in 1961?
Simpson did it though. He went with a break containing the hottest favourite, Rik Van Looy, then attacked it at the right moment. The Italian national champion, Nino de Filippes was the only one who could follow, and Simpson outsprinted him in a thrilling finish to win his first Classic.
16 - British women's team pursuiters grab Olympic gold, London 2012
They were the nailed-on favourites to win the first ever Olympic women's team pursuit gold. The event had been in the World Championships since 2008, and Team GB had never done worse than second place, and even that was only once.
You don't get hotter favourites than the British girls were to win in London, and if that isn't pressure I don't know what is. They never batted an eyelid, though, winning convincingly with power and grace. It was predictable, but they still made it incredible.
15 - Graham Obree's first World Hour record
Obree needed this record for a world of reasons. He went for it first on a brand new copy of the bike he designed, and failed. Someone else might have given up, but not Obree. He wanted to go again the same day, but was talked out of that. However, the Hamar track was booked the next day and he tried early in the morning.
Obree rode all of the hour on day one - knocking out just over 50 kilometres, even though he was down all the way - so he took that fatigue with him into the night. It must have been excruciating. Unwilling to let his legs stiffen, Obree drank loads of water to force himself to keep waking up. And when he woke he did stretches, drank some more water and fell asleep, only to wake up an hour or so later and do the same again.
He did ride the next day. On the bike he built, Old Faithful, the one with the washing machine bearings. Obree thrashed his body to 51.596 kilometres, pushing his own super-high pain threshold into the stratosphere. Even he says that nothing he did after that felt as hard. It was amazing, thrilling, a bit macabre, and incredibly brave.
14 - Lizzie Armitstead's 2012 Olympic road race silver
What a race the women had on the Surrey roads and in the London streets. It was attack and counter-attack right from the start, until an irresistible break prised itself away from the rest.
Finally it came down to a straight fight, Armitstead carrying the hopes of Britain into battle against the best women's racer of her generation, the best of all time in terms of achievements, and the best cyclist in the world, man or woman, in terms of the spread of her victories: Marianne Vos.
Armitstead didn't win but she put everything she could into every pedal rev along the wet and windy Mall.
13 - Robert Millar crowned King of the Mountains, 1984 Tour de France
This was brilliant. Stage 17 finished on Alpe d'Huez and Millar was following Bernard Hinault, who wasn't back to full strength yet after knee surgery. Of course, that didn't stop Hinault wanting to win the stage with every fibre of his body. Hinault was racing angry, Laurent Fignon was in much better shape, but Hinault kept attacking him.
Millar got away before the Alpe but was caught and passed on it by Lucho Hererra then by Fignon. This was terrible for Hinault, so he dug in, desperate to haul Fignon back. Then suddenly Millar was on Hinault's back wheel, and as soon as he became aware of the Scot, Hinault flicked out his right elbow telling him to come through and share the work.
Millar did come through, but he didn't share. Instead he pranced away from Hinault, leaving him to lose even more time on Fignon. Millar finished fourth on the stage, rode into the polka-dot jersey, and six days later he it won outright in Paris.
12 - Chris Hoy's kilo gold, Athens, 2004
As reigning world champion Hoy went last. The competition got hotter throughout the event until, four riders before Hoy, Australia's Shane Kelly broke the Olympic record with 1 minute 1.224 seconds.
Next up Stefan Nimke did 1 minute 1.186 seconds for Germany. Then Arnaud Tournant did 1 minute 0.896 seconds, to become the first man to go under 61 seconds at sea level. Now all Hoy had to do to win was break the new sea-level world record.
Talk about pressure. Not that Hoy felt any, he simply went through the process, controlling the controllables, to thunder through four laps and take the gold, pushing Team GB even higher up the medals table.
11 - Barry Hoban wins Ghent-Wevelgem in 1974
Barry gets his Classic win would qualify as a British feel-good story anyway, as he'd ploughed an often lone furrow as the country's only representative in the pro peloton for years. But 1974 was his best year when he was part of a super-team, Gan-Mercier, who won everything Eddy Merckx didn't - like Ghent-Wevelgem, for example.
Merckx finished second, Roger De Vlaeminck third and a whole bunch of Belgian Classics stars were behind them. All of them members of a break Merckx tried to rip to bits, but couldn't. This is a link to a clip of Hoban's win; http://www.youtube.com/watch?v=ZA82TjrMGO8 so you can see for yourself.
10 - Bradley Wiggins's Olympic TT gold, London 2012
A gold medal in London had been Wiggins's number one ambition since the 2012 Games were announced, well before he thought it was possible to win the Tour de France. It would mean gold medals in three Olympics in a row, but above all it was London, where Wiggins comes from.
Going for the Tour in the same year meant gold on the track, which would have been a cinch, was out for Wiggins. The road race suited Mark Cavendish, so Wiggins only had the time trial to do it in. He was in the form of his life, but he'd just won the Tour de France.
The biggest prize in cycling had seemed beyond Britain's grasp since, well, since forever. Then Wiggins won it, and true to his longer-term ambition he didn't celebrate in Paris. Instead he kept training and kept his head together, first to work for Mark Cavendish in the Olympic road race, then to ride for himself against the clock.
Wiggins won in London, but was it exciting? You bet it was, thrilling even. It was time trial as art. Wiggins's solution to moving through air with as little friction as possible is the most elegant in cycling. The rest was done with power and pacing. His ride was time trial perfection.
9 - Froome takes stage, Wiggins grabs yellow, stage seven, Tour 2012
This was when we first knew Wiggins really could win the Tour de France. I say Wiggins because that was Team Sky's battle plan. Wiggins was leader going into the race, and he had a time gap on Chris Froome by stage seven anyway. But what a double whammy for Britain.
The final climb, the one the stage finished on top of, Planche de Belle Filles, starts really hard, becomes easier then is steep and gets steeper at the top. Froome was Wiggins's wingman at first. Then, when he could do so safely, Froome attacked while Wiggins fought for every second as the cracks appeared behind. All of a sudden the best two riders in the race were British, and the dream began to look like a reality.
8 - Mark Cavendish lights up the Champs- Elysées, Tour 2012
Wiggins had realised the dream, he'd won the Tour de France, but this stage gave Great Britain a dream ending. Wiggins puts this at number two in his best moments of the 2012 Tour. "I wanted to do the last two kilometres over the cobbles before the sprint started. I was so psyched up to lead out Cav," he says. And it's just what he did. Wiggins was like a one-man lead-out train, towing the rest in a long line behind, down the Rue de Rivoli then across the Place de la Concorde, where Edvald Boasson-Hagen took over for Cavendish and Sky.
Cavendish went early, but the don of bunch sprinting knew he could. "There's usually a headwind on the Champs Elysees, but it was cross and behind today, so I thought I'd go early and use my acceleration to get a gap," he said afterwards. Cavendish flew up the cobbles, the cat-like arch of his back stretching the rainbow bands across it, as he pumped at his handlebars and poured watts into his pedals. The rest of the sprinters were nowhere.
Cavendish won for the fourth time on the Champs-Elysées, his 23rd Tour stage victory, passing the 22 of André Darrigade, to become the greatest sprinter in Tour de France history.
7 - Graeme Obree crowned world pursuit champion, 1995
Obree knew Andrea Collinelli was the man to beat, and he also knew the Italian was just that bit quicker than him. But Obree prevailed through a mix of very clever tactics and sheer desire. He paced the series, qualifying third fastest then doing a storming quarter-final so he could avoid Collinelli and Stuart O'Grady in the semis.
As the fastest in the quarters, Obree rode against the slowest semi-finalist, a known quantity to him, Philippe Ermenault of France. He did just enough to beat Ermenault, and as he did in the first semi-final, he got 10 minutes more rest than Collinelli, who had a real scrap to beat O'Grady. But that's where the tactics ended. The rest was down to Obree refusing to be beat.
Collinelli started fast and led after the first kilometre, but Obree drew level by half way then went 0.2 seconds ahead. But Collinelli went again, finding more speed to pull Obree back and draw ahead. Then Obree pegged him.
With one lap to go it was dead level, and Collinelli was a much faster finisher, but somehow Obree reached deep down into the well of character he has and found something. You couldn't judge it until the line, but then it was clear, Obree's finish pistol fired 0.5 seconds before Collinelli's. He was world champion again.
6 - Cav takes the 2011 world road race title
Team GB's assault on the 2011 Worlds was three years in the making, but the tactics were simple; it was all for Cavendish. Britain's best road racers took total control, setting Cavendish up for a sprint finish, which came, but when it did it looked a bit like it had all gone wrong. Cav had to freelance, he didn't have a lead-out train, but that was part of the plan.
On his own he looked lost, then it looked worse, it looked like he was boxed in, but the slow-motion reel that runs inside Cavendish's head saw a gap opening before we ever saw it on TV. He knew it would open too. Cavendish powered through it, and from that point winning was inevitable.
5 - Chris Froome conquers Mont Ventoux, 2013 Tour de France
He'd done enough to protect his yellow jersey, he'd met the Team Sky mantra and controlled the controllables, but at heart Chris Froome is a racer. He familiarised himself with Mont Ventoux, visiting it to get the measure of its demands, and he already had the measure of its history.
Froome wanted to win the Tour, but he wanted to win on Ventoux as well. His attack was superb, his progress after it inexorable. He took the world's best climbers apart with a visceral display of talent, blowing the race to bits and establishing himself as the strongest stage racer in the world.
It was exciting, it was inspiring, and to use an irritating Americanism; it was awesome.
4 - Nicole Cooke, Olympic road race gold, Beijing 2008
Nicole Cooke is a racer above all else. When the wheels start turning, she starts working on winning. She was irresistible in the Beijing Olympic road race. She wore a skinsuit, used lighter tyres than the conditions dictated, and was totally committed.
It was a road race master-class, nobody else was going to win; her body language, her face, her tactics, they all said so. It was a joy and a thrill to watch.
3 - Tom Simpson, world road race champion, 1965
Simpson dominated this race, physically and tactically. The early break was dangerous. It had good riders from every big cycling nation except France in it, so the rest left France to chase. Simpson saw this. He saw victory was about to disappear up the road, so he jumped across to the break, taking Rudi Altig of Germany and a few others with him.
Barry Hoban was already in the break, but not fully committing. As soon as Simpson caught them, Hoban committed fully. He worked like crazy, and so did most of the others, and pretty soon their lead was unassailable. But the group was big, and as the race wore on some members stopped working. So Simpson attacked again, he rode as hard as he could up the toughest climb on a tough circuit, and didn't look around until the top. Only one rider followed him, Rudi Altig.
The pair worked well together, gaining time all the way to the finish. Simpson asked Altig to not go too hard on the flat, but then Altig asked Simpson to do the same on the climbs. They were going to sprint it out. Everybody thought Altig was the better sprinter and maybe he was, but Simpson caught him napping. They agreed to separate with one kilometre to go and ride on either side of the road, until one of them started the sprint.
When they separated, Simpson attacked. He gained 10 lengths before Altig started to close. Altig closed all the way up the finishing straight until he blew up around 150m to go and didn't close any more. Simpson had won.
2 - Cav wins closest ever Milan-San Remo, 2009
Cavendish targeted this. Milan-San Remo had been identified as a box to tick on his way to winning the world title, but Cavendish isn't a box-ticking machine, he wanted to win because it was Milan-San Remo.
Cav did everything right, but then it looked like Heinrich Haussler would spoil it. Haussler went early and got a huge gap. And as they approached the line Haussler still had a huge gap on everybody, except one man. Cavendish was rocketing across the gap in a blind fury.
His sprint was raw speed and perfect timing, but above all it was desire. Winning was all Cavendish wanted, second was no good. He threw his bike at the line and just got there first. It was breathtaking.
1 - Chris Hoy, 2012 Olympic keirin final
Ever since the IOC threw his race, the kilometre time trial, out, Sir Chris Hoy made the keirin his own. He also made one tactic his own, go from a long way out and burn off the opposition.
Hoy had the speed and power to do it, even on the rare occasions someone got in his slipstream, when they tried to move out they just hit a solid wall of air and went backwards. It was better to stay right behind Hoy, at least then the rider could finish second.
Hoy was reigning Olympic and world keirin champion when he lined up for the London 2012 final. It was his last Olympic race, and he did what he did best, he dictated the race. With two laps to go, Hoy was flat-out off the front but hadn't got the gap he usually got, there were others around him.
Then down the back straight Germany's Maximilian Levy made his move to get past. Levy gained on Hoy, but to win he had to do it in the straight, and he didn't. With the inside line on the final banking, Hoy was immense, Levy couldn't go around him and his challenge melted away.
Sir Chris Hoy had his second London gold, the last of his career, and we could all breathe again after the most exciting keirin final in history.
>>>50 most thrilling performances part one>>>


This article was first published in the December 12 issue of Cycling Weekly. Read Cycling Weekly magazine on the day of release where ever you are in the world International digital edition, UK digital edition. And if you like us, rate us!