West Midlands velodrome moves a step closer with independent study into business case
The merits of a West Midlands velodrome and cycle park are being evaluated by an independent group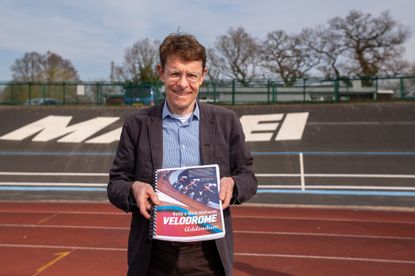 (Image credit: WMCA)
The longstanding dream of a velodrome in Birmingham has moved a step closer with the West Midlands Combined Authority (WMCA) commissioning an independent study to examine the business case for a cycling hub for the region.
The study will look at four options for the West Midlands: a purpose-built indoor velodrome, a mixed-use development to include a velodrome, an outdoor cycle park, or a temporary cover at existing outdoor velodromes in Wolverhampton and Halesowen.
Andy Street, the mayor of the West Midlands, who is also the chair of the WMCA, said that a cycling project would be "another example of an enduring sport legacy in the region"
"There has been a lot of campaigning on this issue for a number of years and in my manifesto, I put on record my support for a velodrome here in the West Midlands," he said in a statement.
"If the business case is supportive, we will fully commit to the process of finally realising cycling facilities that will be open, inclusive, and accessible to the community, not just to grow and support the region's sporting talent."
A "Cycling Facility Advisory Group" has been established for purpose of the study. It is chaired by the West Midlands cycling and walking commissioner, Adam Tranter, and is made up of local authorities, Sport England, British Cycling and community representatives, including David Viner, who has been leading the campaign to get a competition-standard velodrome built in the region for many years.
The group will share its findings with the WMCA by the end of 2023. The press release notes that if the business case is made for specialist cycling facilities, separate site feasibility studies and external funding will be required to bring any proposals forward.
Tranter said that he wanted a "venue for everyone".
"We want to take a hard look at the cycling facilities opportunities for the region post-Commonwealth Games," he said. "This is not just looking at a facility for elite use; there's a potential to create a venue for everyone, a facility that is truly inclusive and accessible in design and in its delivery.
"I am pleased to convene all the major stakeholders on behalf of the mayor, especially community representatives on board to inform this work and help us make the future decisions."
Thank you for reading 20 articles this month* Join now for unlimited access
Enjoy your first month for just £1 / $1 / €1
*Read 5 free articles per month without a subscription
Join now for unlimited access
Try first month for just £1 / $1 / €1