Britain's masters strike gold at track worlds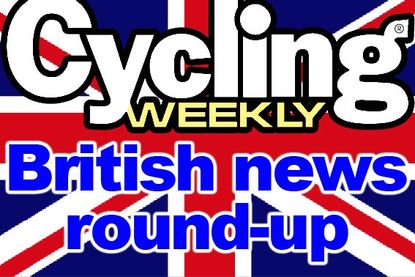 Britain's masters strike gold at track worlds
Great Britain's masters have won nine gold medals in the opening two days of the Masters World Track Championships in Sangalhos, Portugal.
Steve Cronshaw (50-54 age category), Dave Le Grys (55-59), Geoff Cooke (65-69), Janet Birkmyre (40-44) and Jenni Nicholson (55-59) all sprinted to 500m time-trial wins.
There were also silver medals for Ivor Reid and Walter Fowler, and bronze for Deborah Capwell, in their respective categories.
In the next day's individual pursuit, there were a series of all-British matches for gold. Kevin Gill saw off Kevin Truelove in the men's 60-64 category, while Janet Birkmyre scored her second gold of the championships, beating Cheryl Owens for 40-44 victory.
Claire Newland got the better of Jayne Paine in the women's 45-49 category, while Jenni Nicholson claimed her second rainbow jersey, overtaking her rival.
Orbea add time-trial champion Griffiths

The Orbea-For Goodness Shakes! team have added under-23 national time trial champion Andrew Griffiths to their roster for the 2011 season.
The signing follows last week's announcement that 2005 Premier Calendar champion Robin Sharman (Basso Bikes), Raleigh youngster Mike Cuming and ex-pro Rafael Rodriguez will be joining the Essex based outfit next year.
Team manager James Whatling said: "We came eighth in the National Rankings this year but never really made that breakthrough. We want to shock a few people in 2011 and signing Andrew should help us do that."
Griffiths, who has spent the last three years riding in Belgium with assistance from the Dave Rayner Fund said of his move: "I feel I am ready to return to the UK racing scene and am excited about the coming year."
He continued: "Orbea have a great set up and a very strong team. My personal goals for 2011 will be the Premier Calendar series and to retain my national time trial title. We'll also be riding some good events in France and Belgium so it's going to be a lot of fun."
The team will announce a new sponsor to replace For Goodness Shakes in the coming weeks.


Spragg reflects on year in Belgium as Qin team reinforces for 2011
James Spragg readily admits to "only doing ten races in the UK" over the last five years. He's barely been home to Devon in that time, spending time in France and racing all over the world with the Marco Polo Cycling Team.
This year, he secured a contract with UCI Continental squad Qin Cycling Team in Belgium. His best performance was sixth in the Memorial Philippe Van Coningsloo
as part of the winning break; he also rode the Tour of Belgium,
finishing sixtieth.
Was he pleased with the year? "Yes and no - I didn't have as many results as I'd have liked, but it's down to a number of factors. It's stepping up - going from 1.2 to 1.1s, it gets pretty tough."
The Belgian scene is cut-throat and merciless, but Spragg feels like he can now be a consistent factor in races. "I'm pleased with how I've progressed, I feel much stronger," he continued. "I've got a chance at winning races now and I know them a lot better. That's partly the thing: some guys know races like the back of their hands: when the crosswind will hit, where the corners are."
On a diet of kermesses and 1.2s, he feels that the problem comes in the bigger events against seasoned ProTour opposition. "When you mix and match some of the lower races, you miss that last top end bit you get from racing at the highest level."
Today, it was announced that Spragg will race for the same outfit next year, only with a bigger structure and bigger riders.
The team announced the signings of Kurt Hovelynck (Quick Step), Huub Duyn (Team NetApp) and Michael Vanderaerden - son of Eric - alongside Spragg.
Rapha Rendezvous app launched

The Rapha Rendezvous app has been released, aiming to make organising a group ride easier.
A black-and-white "Where the hell is Fausto?" advertisement illustrates the problem: a number of factors, be it unexpected punctures, traffic, diabolical headwinds or sheer poor timekeeping, can contribute to a long, confused wait for a ride companion.
The new app looks to change that. Other riders can be invited, then observed in real time, making their progress to the meeting point on a map.
It also describes ride distance, terrain, pace and required kit, and allows you to create private or public rides and set ride reminders.
Rapha Rendezvous is available to download from the Apple app store for iPhone users.
Thank you for reading 20 articles this month* Join now for unlimited access
Enjoy your first month for just £1 / $1 / €1
*Read 5 free articles per month without a subscription
Join now for unlimited access
Try first month for just £1 / $1 / €1