Contador: No Grand Tour triple in 2011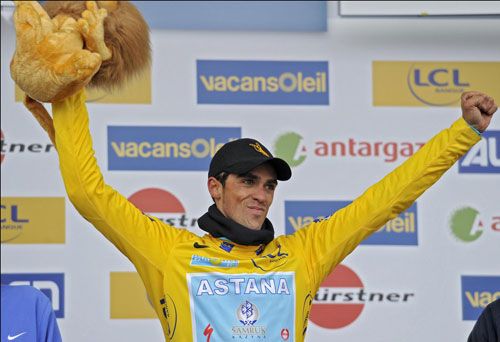 Alberto Contador will not be racing all three major Tours in 2011, contrary to media reports published yesterday.
Contador's spokesman Jacinto Vidarte denied that there is any chance of cycling's top stage racer doing all three major Tours in a single year, and referred to the one interview, on Spanish television station TVE, where Contador has discussed his future plans.
According to reports in French newspaper L'Equipe published yesterday and widely reported elsewhere, Contador had indicated that he might do all three major Tours. But Vidarte categorically denies that has ever been Contador's intention.
"Alberto will not be doing all three Grand Tours in 2011, regardless of the outcome of his case," Vidarte told Cycling Weekly referring to the continuing investigation into Contador's positive for banned substance clenbuterol during the 2010 Tour de France.
"This story has been doing the rounds for a while now, it first appeared back in the summer, and then as now, it's not true."
Asked about Contador's aims for 2011, Vidarte referred to the one interview where Contador has clearly stated his plans for next season, on Spanish television.
In it, the Spaniard said that the Tour forms part of his objectives, but that he had to plan the rest of the year. Contador made no reference to any other race.
Contador is currently in the Canary Islands training with his new squad for 2011, Saxo Bank, whilst he continues to wait for an outcome in his clenbuterol case. He will return to the mainland this weekend.
Related links
Contador to aim for three grand tours in 2011