CTC names Britain's best pothole-fixing council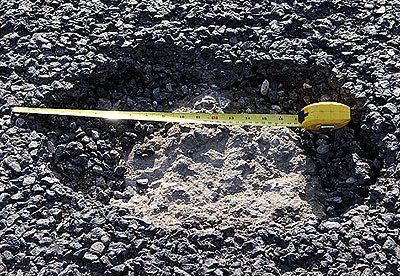 The CTC, the national cyclists' organisation, has named Britain's best-performing pothole-filling council - and the award goes to Cheshire West and Chester Council.
CWCC filled all 47 holes that were reported by cyclists via the CTC's www.fillthathole.org.uk website. Users of the site can upload details of road defects and the information is passed on to the relevant local authority in the hope that they will rectify the pothole(s) in question.
Construction company Aggregate Industries assisted in the scheme to award the councils which have the best road maintenance records.
Other councils with a 100 per cent record of filling reported potholes are Newham, West Lothian, Brent, Redbridge and Luton.
"The public is very keen to see improved road maintenance standards, and this is particularly true for cyclists, as good surfaces are hugely important for their safety," said CTC campaigns and policy director Roger Geffen.
"With Fill That Hole making it easy for road users to report road defects, people are discovering that many councils are good at fixing them quickly once they know about them."
A total of 11,200 potholes and road defects were reported by users via the www.fillthathole.org.uk website. The site was created in 2007. A full list of the 2010/2011 awards can be found on the Fill That Hole website.
Related links
Editor's blog: Holey smoke
Thank you for reading 5 articles this month* Join now for unlimited access
Enjoy your first month for just £1 / $1 / €1
*Read 5 free articles per month without a subscription
Join now for unlimited access
Try first month for just £1 / $1 / €1