Glasgow to host Track World Cup round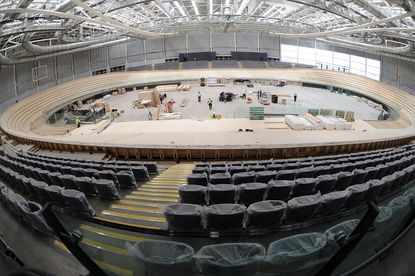 The Union Cycliste Internationale (UCI) has announced today that the Track World Cup will be coming to the new Sir Chris Hoy Velodrome in Glasgow this winter.
The new venue will host the world's top riders for the first time at what will likely be the first or second round of the four meet series between November 16 and 18. Other rounds of the series have yet to be announced.
According to British Cycling, it will give fans the first opportunity to see the GB Cycling Team in international action after the Olympics.
The new velodrome will also host the Junior World Track Championships next year before the Commonwealth Games -for which it was primarily built- in 2014.
While Manchester hosted World Cup rounds up to 2011, London's new velodrome hosted the most recent British round -doubling as an Olympic test event- in February.
During that meeting, Britain's three international standard racing venues (that's Manchester, London and Glasgow - Newport is classed as a training velodrome) and British Cycling signed an agreement to work together in delivering "an enduring legacy for cyclists of all abilities".
It is understood that all parties will co-operate with each other when bidding for major events.
Tickets for the November event are due to go on sale by early July.
Cycling Weekly visited the new Glasgow facility last month. Click here to see our photo special on how it is taking shape.
Thank you for reading 10 articles this month* Join now for unlimited access
Enjoy your first month for just £1 / $1 / €1
*Read 5 free articles per month without a subscription
Join now for unlimited access
Try first month for just £1 / $1 / €1