IOC and UCI to discuss inclusion of cyclocross at Winter Games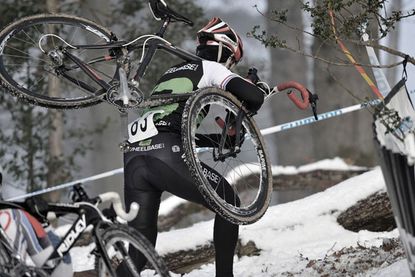 The UCI is set to meet with IOC officials in the coming weeks to debate the addition of cyclocross to the Winter Olympic Games.
According to Beligian newspaper Het Nieuwsblad, Peter Van Den Abeele, who coordinates off-road events at the UCI, will meet with the International Olympic Committee sports director Christophe Dubi to revisit the idea of having cyclocross as a Winter Olympic sport.
Cyclocross is currently prohibited from becoming a Winter Olympic event due to the fact it does not take place on snow or ice.
This same rule has seen the likes of cross-country running also discounted from inclusion; however a joint push from the UCI and the International Association of Athletics Federations could see the rule modified to include both sports.
UCI president Brian Cookson has previously vocalised his support for the inclusion of cyclocross, telling Het Nieuwsblad last year: "I'm a fan of cyclocross...Cyclocross as a discipline at the Winter Games is currently impossible because it is not practiced on snow or ice, but perhaps the IOC will one day revise the rule. It's currently missing something."
This is not the first time the inclusion of cyclocross has been discussed, however 2009 talks on the subject never materialised to anything.
The addition of cyclocross to the Games would certainly provide a major boost of attention to what is globally still a minority sport.
Thank you for reading 20 articles this month* Join now for unlimited access
Enjoy your first month for just £1 / $1 / €1
*Read 5 free articles per month without a subscription
Join now for unlimited access
Try first month for just £1 / $1 / €1