Italian coach Bettini says 2011 Worlds hard for Cavendish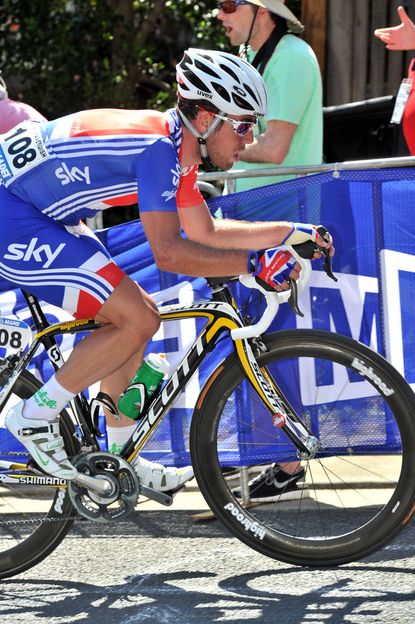 Mark Cavendish's chances of winning next year's World Championships in Copenhagen depend on his team, believes Italy's head coach.
"Cavendish?" said Paolo Bettini. "It will be hard for him because he will not have a team."
Great Britain only qualified for a three-man team at this year's World Championships in Geelong, Australia, due to its national rankings. It ranked 15th when the International Cycling Union (UCI) allocated team quotas in mid-August.
Great Britain raced with a full nine-man team in 2009 largely thanks to Cavendish's wins and Brad Wiggins' fourth place at the Tour de France. Cavendish will have a hard time winning, according to Bettini, if Great Britain fails to qualify for a nine-man team.
Bettini, himself a double winner, previewed the World Championship circuit in Rudersdal, just north of Copenhagen, yesterday.
"In Italy there is only one rider who after 250 kilometres knows how to win a finish like this: Alessandro Petacchi," Bettini continued in an interview with Italy's La Gazzetta dello Sport newspaper.
"The course is easy, but not like Zolder in 2002. If anything, it is more like Madrid in 2005. The finish is for a strong man, just like Petacchi, or [Thor] Hushovd. There is someone else in Italy who is very well suited to a finish like this, but he has never won on a course more than 250 kilometres yet. I am talking about [Daniele] Bennati and I would be very happy to be able to have him as our leader, but he has to ride well from the Hamburg Classics onwards."
Cavendish regularly beat Petacchi and Bettini over the last three years. He won ahead of both of them in 2009 at their most cherished spring classic, Milano-San Remo.
He will need to work with Britain's performance director, David Brailsford to ensure the Great Britain will qualify for a nine-man team and study the course. Cavendish already previewed the course last month with HTC's Danish sports director, Brian Holm.
"The route is much easier than in Geelong, but actually harder than I thought," Cavendish told Denmark's CyclingWorld website. "It's technically very difficult. But I think it'll be a finale with a large group sprint."
Copenhagen's is more sprinter-friendly than this year's circuit in Geelong. The race will start in the nation's capital and travel north to Rudersdal to complete a 14-kilometre circuit 18 times. The hardest section is after 2.8 kilometres, a 500-metre climb of seven per cent gradient. The last kilometres are fast, with a 90° right turn at 900 metres from the finish line and with a small rise of 4.5 perfect up Geels Hill on Kongevejen street at 500 metres.
Petacchi last led team Italy at the World Championships in Madrid. On the final lap, he failed to stay the front group, which contained eventual winner, Belgian Tom Boonen.
"It is important that we manage well the tactics of the course," added Bettini. "Our team has to always be united and together. The last kilometres are not easy to manage and the last two men have to understand how to handle the job."
Bettini will work on selecting his team as next season develops. He admitted, though, that his country lacks the strong workers that it had when he won his titles in 2006 and 2007.
"There are young riders around that can do this type of work, but they have to understand the importance. Instead, and maybe it is not a mistake, they harbour a desire to win immediately."
The World Championships will run from September 19 to 25 in Rudersdal. The women and Under 23 men will race the same course, but, unlike the elite men, they will start in Rudersdal.
Related links
Cavendish previews Copenhagen's Worlds course
Thank you for reading 20 articles this month* Join now for unlimited access
Enjoy your first month for just £1 / $1 / €1
*Read 5 free articles per month without a subscription
Join now for unlimited access
Try first month for just £1 / $1 / €1