Joanna Rowsell to skip Track World Championships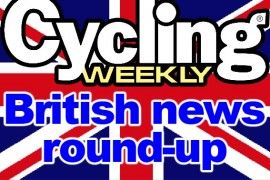 Olympic team pursuit gold medalist Joanna Rowsell will skip the track world championships this February as she looks to impress on her first season on the road with Wiggle-Honda.
Rowsell, 24, will start her season at the Omloop Het Nieuwsblad on February 23 and is looking forward to the challenge of proving herself on the cobbles with a full winter's road training behind her.
"From my experience as a rider its always taken me a few weeks to make that transition [from the track] to the road," she told Cycling Weekly. "That's why this year its exciting for me because I've been able to get that good base of training that you never really get as a track rider."
The intense efforts of track endurance events are not dissimilar to the repeated high-tempo sectors found in cobbled classics although it has been 18 months since Rowsell last rode in a bunch.
"I've ridden on cobbles before, but I've not ridden Het Nieuwsblad," she added. "People say I look like I suit cobbles, but I'm not sure if that's a compliment or not!
"My last road race was a year and a half ago, so I haven't ridden in a bunch since then. I'm expecting it to be in at the deep end but also I need to prove myself because we've got a team of 12 riders and normally its just six riders [chosen] per race."
Prime Minister backs Yorkshire Tour de France
Welcome to Yorkshire, who will organise the Tour de France when it comes to Yorkshire in 2014, secured backing from the Prime Minister David Cameron at a meeting in Leeds on Monday.
Welcome to Yorkshire Chief Executive Gary Verity was invited by Deputy PM Nick Clegg to brief the Cabinet about how Government can help in the 18 months leading up to the race.
It is understood the backing will include work on legacy projects but could also include financial support for the event, which is estimated to cost £10m in total over the three days that it visits the UK.
The Grand Départ of the race will take place in Leeds on July 5 before visiting Harrogate, York, Sheffield and Cambridge over three days, culminating in a stage finishing in London.
Sybrandy back at Southdowns Bikes Sporting Classic
The time-trial season officially begins this Sunday at the Southdowns Bikes CC Sporting Classic in Storrington, West Sussex.
49 riders will be putting their winter training into action on the 34km
course including last year's winner Doug Dewey and IG-Sigma rider Wouter
Sybrandy, who makes his return to racing after a severe crash during
the final stage of the Tour of Britain.
The Dutchman holds the record for the course at 47-16 and organiser Martin Richardson reckons riders could come close again this weekend if they've been working hard
over winter.
"It all depends on how fit the riders are," he told CW, "and there should be an interesting little tussle.
"I've just ridden the course and there are no potholes whatsoever!" he added.
CityCross comes to Halifax
What could you do with an abandoned mill in West Yorkshire and some piles of
rubble?
Well, the chaps over at Morvélo have come up with CityCross; a series of cyclocross races through the decaying edifice in the middle of Halifax.
With a series of qualifying rounds for a range of categories there will be obstacles, multiple lines and barriers as organisers try to recreate the feeling of racing your mates when you were a kid.
Training for CityCross couldn't be easier
March 3 is the all important date for beer, chips, hog roast and sushi (!). Head to www.citycross.co.uk for more information.
Mildenhall Cycling Rally
Three days of grass track racing and cycling festivities will be returning this year at the Mildenhall Cycling Rally in Mildenhall, Suffolk.
Taking place over the August Bank Holiday weekend (August 24-26), the grass track competitions will form the centre-piece of the event and will include the women's national 800m championships and a madison cyclocross race.
There will be plenty of kids rides and events going on over the weekend and local CTC members will be organising audax rides from the event. A trade show will also take place on the Sunday and Monday of the weekend.
Camping pitches for the event will be available at Easter and organiser Mark Burchett advises those wishing to camp on-site over the rally to book as early as possible through the event website. In the mean-time you can have a look at highlights from last year's event at www.mildenhallrally.org.uk
Get in Touch
We want to hear what's happening in your area - from racing
results to sportives, recreational cycling to commuting. To submit your
stories for CW's British news round-up, please email Nick Bull or Richard Abraham
Related links
Herne Hill Velodrome project approved by council
Government announces £62million cycling investment
Entries open for new closed road Etape Mercia
Thank you for reading 20 articles this month* Join now for unlimited access
Enjoy your first month for just £1 / $1 / €1
*Read 5 free articles per month without a subscription
Join now for unlimited access
Try first month for just £1 / $1 / €1