Becky James 'will be ready' for Rio 2016 despite injury setback
British Cycling's Shane Sutton is confident track cyclist Becky James will be ready for the Rio 2016 Olympic Games after her knee injury flared up again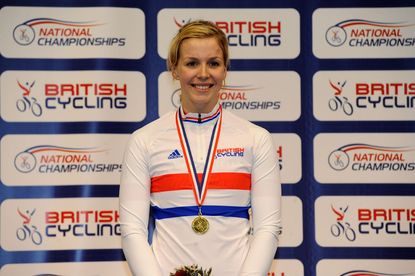 Becky James maybe missing from the British Cycling's UCI Track World Championship squad, but technical director Shane Sutton is confident she will recover from injury in time to claim a spot at Rio 2016.
The Welsh cyclist has suffered from a recurring knee injury in recent months, keeping her out of the Commonwealth Games in July, as well as going under the knife for a shoulder injury.
And Sutton confirmed that James had suffered another setback with her knee, which requires the 23-year-old former double world champion to step back her training once more.
"Becky has had a few setbacks over the last week or so," he said. "We looked like getting her back in the spring but there have been one or two little complications.
"I have no detailed report. That is kept between the doctors, medical team and her rehab team. They are doing a great job and she is getting the best treatment possible."
James won gold in the sprint and keirin at the 2013 World Championships, having missed out on a place at London 2012.
But Sutton says this latest injury setback should not derail her Rio Olympic hopes, as long as she is back in full training by August – 12 months before the Games.
"I am totally confident we will get her right for Rio," Sutton added. "Another four or five weeks is really not going to matter. She has lost a lot of time but give us 12 months and a clean bill of health, then Becky will be knocking them over in Rio.
"We are talking about a girl that is one of the best on the world stage. If anyone is going to survive this and cope mentally, it will be Becky."
Thank you for reading 20 articles this month* Join now for unlimited access
Enjoy your first month for just £1 / $1 / €1
*Read 5 free articles per month without a subscription
Join now for unlimited access
Try first month for just £1 / $1 / €1