British track rider Ciara Horne 'grateful to be alive' after suffering extensive injuries in collision with car
The 27-year-old Welshwoman has called for greater respect between motorists and cyclists in the wake of the incident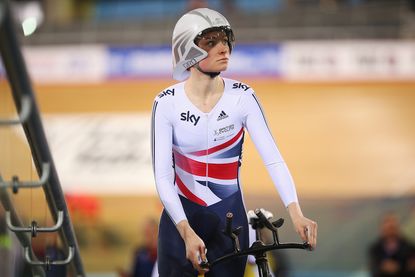 (Image credit: Getty Images)
British Olympic track rider Ciara Horne has called for a greater understanding between motorists and cyclists after being knocked off her bike last week. The 27-year-old suffered extensive injuries in the incident which occurred in Cardiff.
>>> Sainsbury's treating incident of its lorry in close-pass with cyclist 'very seriously'
Horne - who won a bronze medal in the road World Championship team trial last year with Cervélo-Bigla - was travelling to the Royal Glamorgan Hospital where she works as a physiotherapist, when a car pulled out in front of her leaving no way to avoid a collision.
"I didn't have any time at all," she told Cycling Weekly, echoing the experience of so many cyclists.
"A second to think, 'Oh god I've got to brake.' I slammed on as much as I could but it was one of those where you know you're going to hit the car and I was trying to dampen it as much as I could."
She was left with concussion, facial cuts and bruising resulting in stitches in her mouth, a shoulder injury and damage to the radial ligament in her right wrist which will require six weeks in a splint, making road riding impossible.
"My helmet took a fair old beating up and the concussion is one of the reasons I didn't get back on the turbo sooner, as they were worried about my head.
"I feel very grateful to be alive. The injuries aren't ideal, but it could have been so much worse and I feel so lucky that my legs are fine.
"A lack of awareness," Horne replied when asked why such incidents occur. "Take that extra five seconds to look left and look right, and check your blind spot as well. In my opinion it is people rushing and a lack of awareness.
"I'm not saying that all car drivers are bad, you get cyclists that do things they shouldn't and you get car drivers that do what they shouldn't do too, but it's getting respect for one another.
"In a car you've got a nice metal casing around you and on a bike you don't, so it is absolutely fundamental that you have that respect because when things like this happen you're going to come off worse than a car driver."
Horne also thinks there could be some benefit in a national advertising campaign to raise awareness of cyclists, similar to the "Think once, think twice, think bike" campaign for motorcyclists, indeed she used the phrase when she tweeted a photo of her injuries after the incident.
"I don't have all the answers, but that advert was quite vivid and distressing to see. I don't know if it affected the rates of incidents, but it really makes you think. I wonder if there was something like that for cyclists where that would leave us."
https://www.youtube.com/watch?v=IYJYA0P5ls8
Though selected for the women's team pursuit, Horne did not get the opportunity to compete at the Rio Olympics and parted company with Team GB to resume her physiotherapy career.
"I left on very good terms. I had three years away [from physiotherapy] after I graduated and I want to go for Tokyo, so to have seven years of no physio would make it extremely difficult to get a job and I may have to redo my degree, and this is the one year to do it.
In a bid to represent Wales in the team pursuit at next year's Commonwealth Games, prior to her crash Horne was combining work with training 18-20 hours a week. After that she will refocus on the Tokyo Olympic Games.
In the mean time her injuries leave he unable to ride on the road for six weeks, though she is hoping make the National Time Trial Championships.
It is understood the incident has been reported to local police.
Thank you for reading 5 articles this month* Join now for unlimited access
Enjoy your first month for just £1 / $1 / €1
*Read 5 free articles per month without a subscription
Join now for unlimited access
Try first month for just £1 / $1 / €1
Owen Rogers is an experienced journalist, covering professional cycling and specialising in women's road racing. He has followed races such as the Women's Tour and Giro d'Italia Donne, live-tweeting from Women's WorldTour events as well as providing race reports, interviews, analysis and news stories. He has also worked for race teams, to provide post race reports and communications.