Cambridgeshire ignoring the needs of rural cyclists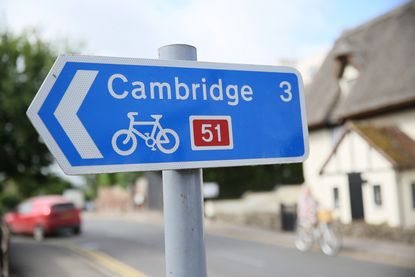 Cambridgeshire County Council has been accused of ignoring outlying villages after proposals to reduce congestion in the county did not include long-distance cycle networks.
The plans for the £180m City Deal transport package were revealed this week with £22.7m earmarked for cycling improvements in the centre of Cambridge over the next five years and a further £8.4m being spent on the Chisholm Trail which will connect key areas of the city from north to south.
The 15 year project, however, fails to connect villages in South Cambridgeshire to the city with improved, designated cycle routes.
Cllr Ray Manning, the leader of the South Cambs District Council, advocated the benefit of cycle routes but believed that park and ride schemes are more suitable in this instance.
>>> Cyclists on footpaths putting pedestrians at risk, says Cambridge MP
He told the City Deal meeting: "If people can get to the edge of Cambridge quickly, leave their cars and either take a bus or cycle, if it's only a mile or two to work, I believe park and ride sites are the most important thing we can do.
"This morning, as I actually sat there, I watched and there were 43 cars and vans and five artics that went past before someone went down the cycleway.
"They're a very good idea, cycleways, but they're not going to make a big impression on the number of people in South Cambridgeshire who are driving in, nor, although it's outside the area, to people from Huntingdonshire and other places.
>>> Cambridgeshire to host UK's first Gran Fondo
Several councillors condemned the plans and Cllr Manning's reasoning: "They clearly don't see how a rural cycle route outside of Cambridge can make a contribution to reducing congestion, when the path along the busway has made a huge contribution," Cllr Aidan Van de Weyer said.
Cllr Gareth Bevons commented: "We do have quite a significant barrier of mobility between communities south of Cambridge. It forces us to use cars when we don't need to. There's a viable alternative and a lot of support for it.
"We're back to the drawing board now for funding solutions. We will have to take our place in the queue."
Source: Cambridge News
Thank you for reading 5 articles this month* Join now for unlimited access
Enjoy your first month for just £1 / $1 / €1
*Read 5 free articles per month without a subscription
Join now for unlimited access
Try first month for just £1 / $1 / €1