CANCELLARA TARGETS PURSUIT AT BEIJING OLYMPICS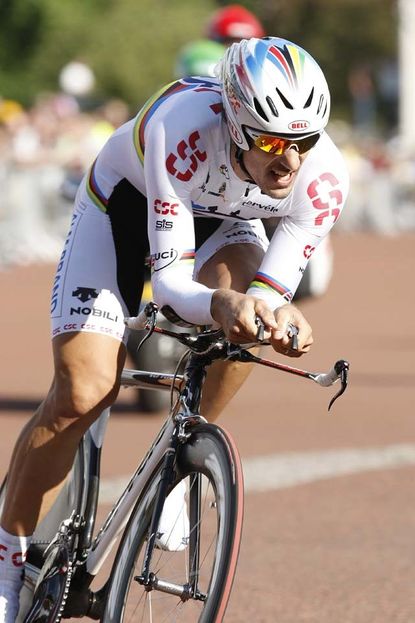 As revealed in today?s Cycling Weekly the world time trial champion, Fabian Cancellara, is planning to ride the individual pursuit at the Beijing Olympics next summer.
The time trial specialist blitzed the rest of the field at the Tour de France prologue in London and now the Swiss track coach Markus Nagel wants him to turn his hand to the pursuit.
Nagel admits it?s not as easy as getting up one day and transforming road speed into track craft, so Cancellara will be testing at the velodrome in Aigle, Switzerland, before Christmas.
And, if the times are good enough, the CSC rider will enter the final round of the World Cup track competition in Copenhagen in February in a bid to qualify for the Olympics.
So, if Wiggins and Cancellara do go head-to-head in Beijing, who?s the favourite?
THE DEFENDING CHAMPION
Bradley Wiggins
Team: Great Britain
Birthplace: Ghent, Belgium
Age: 27
Height: 192cm (6ft 2in)
Weight: 75kg (11 stone 7)
PRO TEAMS
2001 Linda McCartney
2002-2003 Francaise des Jeux
2004-2005 Credit Agricole
2006-2007 Cofidis
2008 T-Mobile
TRACK PEDIGREE
Olympic Games
Gold ? individual pursuit, Athens 2004
Silver ? Team pursuit, Athens 2004
Bronze ? Madison (with Rob Hayles), Athens 2004
Bronze ? Team pursuit, Sydney 2000
World Championships
Gold ? individual pursuit 2003, Stuttgart
Gold ? individual pursuit 2007, Majorca
Gold ? team pursuit 2007
Individual pursuit personal best: 4-15.165 (Athens Olympics)
ROAD REPUTATION
Prologue wins: 1 (Dauphiné Libéré 2007)
Pro time trial wins: 5 (Tour de l?Avenir 2003, Circuit de Lorraine 2005, Four Days of Dunkirk 2007, Tour du Poitou Charentes 2007, Duo Normand 2007)
Road stage wins: 1 (Tour de l?Avenir 2005)
HONOURS
Awarded the Order of the British Empire in the New Year?s Honours list on January 1, 2005 after winning a gold, a silver and a bronze at the Athens Olympics.
THE CHALLENGER
Fabian Cancellara
Team: Switzerland
Birthplace: Bern, Switzerland
Age: 26
Height: 185cm (6ft)
Weight: 80kg (12 stone 6)
PRO TEAMS
2001-2002 Mapei
2003-2005 Fassa Bortolo
2006-2008 CSC
TRACK PEDIGREE
None
ROAD REPUTATION
* Twice junior world time trial champion (Valkenburg 1998, Treviso 1999)
* Twice world time trial champion (Salzburg 2006, Stuttgart 2007)
* Five-time Swiss national time trial champion (2002, 2004-2007)
Prologue wins: 8 (including Tour de France 2004 and 2007)
Pro time trial wins: 11
Road stage wins: 5 (including Tour de France stage at Compiegne 2007)
Overall stage race wins: 4 (including Tour of Denmark 2006)
Classics 1 (Paris-Roubaix 2006)
SUMMARY
Cancellara is clearly one of the most accomplished rouleurs in the modern peloton. His power, technique and pure speed was evident to the huge London crowd as he demolished the field at the Tour prologue in July.
Cancellara covered the 7.9-kilometre course in a time of eight minutes and 50 seconds - an average speed of 53.7 kilometres per hour. Wiggins was 23 seconds slower.
Wiggins? personal best for the 4,000 metres pursuit is four minutes and 15.165 seconds, set in Athens ? an average speed of 56.47 kilometres per hour.
Cancellara?s status as the best time trial and prologue rider in the world right now may not be threatened in the near future but the track is a whole different basket of onions.
When it comes to a fixed gear, a wooden track and unimaginable pressure, Paris-Roubaix, Tour de France stages and world time trial titles will mean absolutely nothing ? and that?s assuming he even manages to convert his proven road ability to the track in his testing sessions.
VERDICT
Wiggins remains the clear favourite, particularly given Cancellara?s lack of time to learn what the track?s all about.
Read the full story in today?s issue of Cycling Weekly, out now
Thank you for reading 20 articles this month* Join now for unlimited access
Enjoy your first month for just £1 / $1 / €1
*Read 5 free articles per month without a subscription
Join now for unlimited access
Try first month for just £1 / $1 / €1