Cavendish to ride Flanders 'for experience'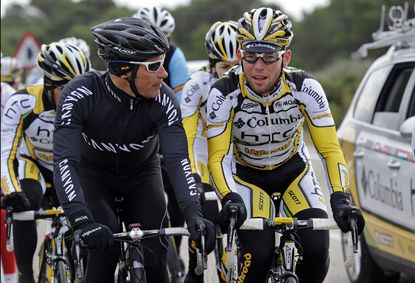 Mark Cavendish's debut in the Tour of Flanders in two weeks' time, he insisted, will be strictly for practice. Though he won Milan-San Remo last year in his first outing, he plans to leave the Belgian classic to his bulkier rivals.
"I just want to get experience at Flanders for the future," Cavendish told Cycling Weekly. "I know I said that about San Remo last year, but, seriously, it is about experience."
Cavendish became only the fourth rider in history to win San Remo in his debut. Ahead of the race, he had insisted he would participate only to gain experience, which sounds familiar to what he is saying ahead of Flanders, April 4.
"There was some misunderstanding over the winter that I want to contend for Flanders. That's a dream, not a realistic thing. It is more to see if I can race for it in the next years. If I do it this year, and it is way out of my league, then I won't try [to win it in the future]."
The HTC-Columbia sprinter, in fact, delayed his start to this year's season and missed 2000-kilometres in training due to teeth problems. With zero wins coming into Saturday's San Remo, he has ruled himself out for a repeat win.
"I am going to Catalonia straight after San Remo."
At the Tour of Catalonia, March 22 to 28, he will have a chance to reach top form and possibly take his first win of the season. A win in Spain would leave him in good stead for Flanders, even if it "is about experience."
Related links
Milan-San Remo 2010: The Big Preview
Spring Classics 2010: Cycling Weekly's coverage index
Milan-San Remo: Boasson Hagen's race?
Hammond and Hunt in Cervelo's San Remo squad
Cavendish improving but San Remo win unlikely says Piva
Sky positions Boasson Hagen for San Remo win
Boonen talks Milan-San Remo and Cavendish
Cavendish and HTC team recon San Remo finish
Thank you for reading 5 articles this month* Join now for unlimited access
Enjoy your first month for just £1 / $1 / €1
*Read 5 free articles per month without a subscription
Join now for unlimited access
Try first month for just £1 / $1 / €1