Di Luca facing three-year ban for CERA positives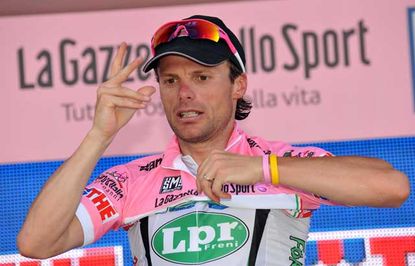 Italy's Danilo Di Luca is facing a possible three-year ban for doping following two positive tests for CERA during the 2009 Giro d'Italia.
The Italian Anti-doping Procura, part of the Italian Olympic Committee that investigates all doping cases in Italian sport, called for a three-year ban after several months of investigation, claiming that Di Luca failed two separate tests for the blood-boosting drug during the 2009 Giro d'Italia.
Di Luca won two stages and finished second overall behind Russia's Denis Menchov. It was first revealed he tested positive on July 22, and so any ban would begin on that date.
The Procura has also called for Di Luca's results in the Giro d'Italia to be cancelled and requested that Di Luca pay all the costs involved. Under Italian law, Di Luca is automatically placed under investigation for doping and may soon be questioned by police in Rome.
Di Luca failed tests on samples that were taken on May 20 and May 28 during the Giro. On the day of the first test he was wearing the leader's pink jersey. The 33 year-old from the central Abruzzo region of Italy has always denied doping and has insisted he would fight any ban, claiming the test for CERA, carried out by the French Anti-doping lab, was flawed.
He also questioned why he was not positive for CERA in another test carried out on the last day of the Giro in Rome on May 30. Di Luca did not immediately react to the Procura's request for a three-year ban.


Schumacher and Rebellin CERA sentences delayed
In other doping news, both the hearing of Stefan Schumacher's appeal to the Tribune for Arbitration in Sport against his ban for CERA and Davide Rebellin's TAS hearing for his Beijing Olympics CERA positive have been delayed until the new year.
Related links
Di Luca positive for EPO at the Giro
CERA: New scourge of the peloton
Thank you for reading 20 articles this month* Join now for unlimited access
Enjoy your first month for just £1 / $1 / €1
*Read 5 free articles per month without a subscription
Join now for unlimited access
Try first month for just £1 / $1 / €1