Gabriel Cullaigh wins Stafford Kermesse (video and photos)
Gabriel Cullaigh defies the bunch to take victory in British Cycling Elite Road Series as Nicola Juniper sews up overall victory in the women's Road Series. Photos by Andy Jones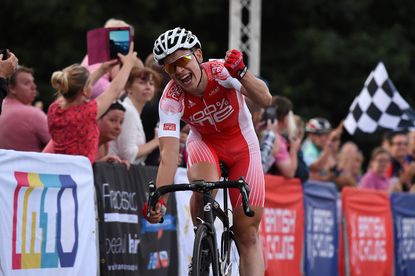 (Image credit: Andy Jones)
Gabriel Cullaigh (100% Me) won the Stafford Kermesse on Saturday, the fourth round of the 2015 British Cycling Elite Road Series.
Cullaigh attacked to take the win just ahead of the chasing pack in the finale of the 65-mile race around the picturesque Shugborough Hall in Staffordshire.
The 19-year-old British Cycling Olympic Academy rider placed one second ahead of Morgan Kneisky (Raleigh GAC) in second and Jon Mould (One Pro Cycling) in third.
Series leader Steve Lampier (Raleigh GAC) came home for fourth to retain his position at the top of the overall table after four rounds.
Mould had won Friday's Stafford Grand Prix, which along with the Kermesse and women's Stafford Grand Prix, were part of the weekend's Staffordshire Cycling Festival.
Nicola Juniper (Giordana-Triton) continued a strong season with a successful defence of her Women's Grand Prix title on Saturday evening.
Having been in an escape with Charline Joiner (WNT) for the duration of the race, Juniper sprinted clear of Joiner to take her first win of the British Cycling Women's Road Series - and with it the overall series title.
The final round of the women's series is the Ryedale Grand Prix on Sunday, July 19.
Results
Stafford Kermesse 2015 (British Cycling Elite Road Series)
1. Gabriel Cullaigh (100% Me) in 1-42-51
2. Morgan Kneisky (Raleigh GAC) at 1 sec
3. Jon Mould (One Pro Cycling)
4. Steve Lampier (Raleigh GAC)
5. Sam Lowe (Raleigh GAC)
6. David McGowan (Pedal Heaven)
7. Matt Cronshaw (Madison Genesis)
8. Dale Appleby (NFTO)
9. Liam Stones (Raleigh GAC)
10. Evan Oliphant (Raleigh GAC) all same time
Women's Stafford Grand Prix (British Cycling Women's Road Series)
1. Nicola Juniper (Giordana-Triton) in 56-32
2. Charline Joiner (WNT) at 8 secs
3. Brit Tate (WNT) at 2-05
4. Annasley Park (Giordana-Triton) at 2-08
5. Henrietta Colborne (Jadan)
6. Abby-Mae Parkinson (Giordana-Triton) at same time
7. Lucy Shaw (Matrix Fitness) at one lap
8. Rose Osborne (WNT) at one lap
9. Steph Clayton (Stafford Road Club) at one lap
10. Hannah Walker (WNT) at one lap
Thank you for reading 5 articles this month* Join now for unlimited access
Enjoy your first month for just £1 / $1 / €1
*Read 5 free articles per month without a subscription
Join now for unlimited access
Try first month for just £1 / $1 / €1