In Motion: 13 stunning cycling photos from the last 12 months
Photographer Wouter Roosenboom has shared 13 pictures which he considers to be among his best of the last year of shooting the professional peloton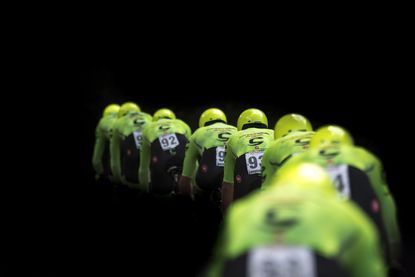 (Image credit: Wouter Roosenboom)
Wouter Roosenboom is a Dutch photographer who seeks to capture the beauty and artistry of cycling from his own unique perspective. Wouter works with many high profile clients in cycling, such as Shimano, Sunweb, Ridley and Bioracer. Here we present a gallery showcasing a selection of what he regards to be his best photos of the last 12 months. For more information you can check out his website here
Cannondale-Drapac
Wouter's winning picture in the world wide cyclingphoto-contest Mark Gunter photographer of the year 2016. The photo is of the Cannondale-Drapac Pro Cycling Team during the 5th stage 20.9km team time trial in the Eneco Tour. Wouter explains "it was really difficult to shoot from the motorbike. The riders entered a forest so it became dark. I had to be very close behind them to shoot this one."
Six appeal
Always looking for the artistic angle, Wouter was inspired by the work of painter Piet Mondrian for this picture of Christian Grasmann at the Six Days Rotterdam 2016. The picture was taken from the roof of Ahoy.
Omloop Het Nieuwsblad 2016
Wouter, who often rides on the back of a moto explains, "I often go in front of the peloton to find interesting spots."
Cavendish
I don't like shooting the finish between all the other photographers. If possible I try to do something diffferent. I shot this picture of Mark Cavendish from a small tree stump and tried to balance on one leg to get a view over the crowds.
Sagan
Wouter describes "I captured this portrait of Peter Sagan just after the opening presentation for the Tour de France."
Warming up
The warming-up of a time trial is always nice to shoot. I pictured Tom Stamsnijder during his warming-up for the Giro d'Italia prologue in Apeldoorn.
Van Avermaet
This rather unique panning shot, is Greg Van Avermaet photgraphed from a bridge during the Eneco Tour time trial in Brad.
Roubaix
This photo is of Koen de Kort showering in the famous showers of Roubaix velodrome at the end of Paris -Roubaix. Wouter explains: "As team photographer of team Giant-Alpecin (now Sunweb), I shoot a lot behind the scenes."
Final time
Image: Wouter Roosenboom
Tour of Flanders 2016
In Wouter's words "An empty street in Brugge during the start of Tour of Flanders. I took this photo with a smile on my face."
Tour de Yorkshire 2016
Wouter explains, "for the first time I visited Le Tour de Yorkshire. It was amazing. Despite its young age, the three-day race has already established itself as Britain's second biggest stage race behind only the Tour of Britain" adding, "I fell in love with the Tour de Yorkshire. Crossing the beautiful roads I saw this distinguished British gentleman."
Different angle
Another image from the 2016 Tour of Flanders as riders traverse the fields. Another example of an angle that other photographers may not think of. "Sometimes you find really nice views from a distance."
UCI Cyclo-Cross World Championships at Zolder
Wouter describes "I'm always looking for something different. When the sun emerges after the rain there are always new opportunities."
Thank you for reading 20 articles this month* Join now for unlimited access
Enjoy your first month for just £1 / $1 / €1
*Read 5 free articles per month without a subscription
Join now for unlimited access
Try first month for just £1 / $1 / €1