Great Britain cycling team and UK Sport set to receive £30m funding injection
After sales of National Lottery tickets slump, the British government is set to plug the shortfall in sport funding ahead of the 2020 Olympic Games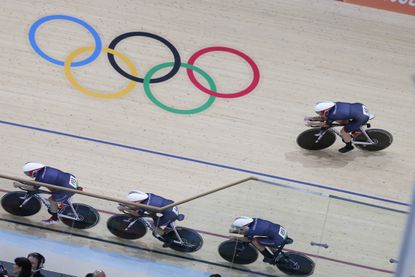 (Image credit: Yuzuru Sunada)
Cycling and other UK Sport activities are set to receive a £30 million helping hand from the government due to the National Lottery's shortfall.
The Telegraph reported that Prime Minister Theresa May agreed to step in at the last minute to help UK Sport in its build-up towards the 2020 Tokyo Olympics. Her decision is pending approval.
Team GB's continued success came under threat when the National Lottery's reported a slump in sales. The Telegraph reported that they were down by £158.8 million.
>>> British Cycling set to face Olympic funding cut due to slump in lottery ticket sales
The slump left a black hole in UK Sport's funding and led to UK Sport reaching out to Number 10.
Sports minister, Tracey Crouch and UK Sport officials reportedly lobbied for the help so that the build up to the 2020 Games would be uninterrupted financially.
UK Sport's budget is a massive £350 million, covering Olympic and Paralympic sports over the four-year period. It could be worth it, the 2016 Games in Rio de Janeiro brought home 214 medals across 34 sports.
British cyclists collected 12 medals, six gold in Rio.
Cycling is second only to rowing in UK Sport's funding, receiving £30,267,816 in the last four-year cycle.
Complicating spending for Tokyo 2020, five new sports appear on the menu: surfing, skateboarding, sport climbing, karate and baseball/softball.
Lottery funding provides for two-thirds of UK Sport's budget. The government already said that it wants the sporting bodies to become less reliant on its help and generation more of their own income.
One idea of shifting spending is less spent on bringing in major events like the 2019 World Championships in Yorkshire, or on election campaigns. Brian Cookson, who won his bid for UCI president in 2013, faces re-election 2017.
Thank you for reading 5 articles this month* Join now for unlimited access
Enjoy your first month for just £1 / $1 / €1
*Read 5 free articles per month without a subscription
Join now for unlimited access
Try first month for just £1 / $1 / €1