Is this hybrid bike the future of cycling? (No it's not)
The GinzVelo can travel at speeds of 20mph without any pedalling, according to its inventor, with top speeds of 30mph thanks to its aerodynamic shell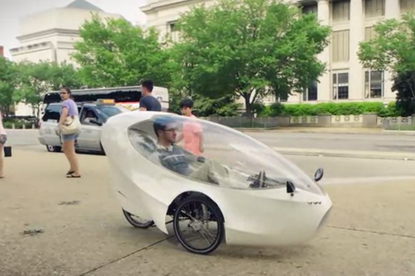 Are you thinking of dropping £4,000 on a new racing bike? Forget it and buy a GinzVelo instead.
What better way to travel around town than pedalling a giant white shell? It's not any giant white shell, though - the inventor of the GinzVelo claims the 'bike' can go as fast as a car thanks to its electric engine.
"Human Powered Hybrids are the future to sustainable transportation," Peter Ginzburg claims on the project's Kickstarter page.
Just plug it in at home and you'll be good to go for up to 100 miles (apparently) at speeds of 20mph (apparently) without any pedalling involved by the rider.
What's more, the bike's aerodynamic shell means it can reach speeds of 30mph (apparently), meaning it's fast enough to keep up with quite slow-moving cars.
>>> New shock absorbing stem seeks Kickstarter funding
The distinctive shell, which Ginzburg promises will turn heads "everywhere you go", was designed with ease of access in mind, with a couple of what look like flimsy gazebo poles holding up the lid while you climb in and out.
Plus, if you like riding in the dark the GinzVelo features six tiny LED lights on the front, which should allow you to be seen from about a yard away, so best not to risk your luck among the cars at night.
>>> Check out the innovative 'bike' that has already smashed its Kickstarter target
Ginzburg already has 10 backers, who have donated over $12,000 towards the $50,000 target. If you're keen to splash $6,500 on a GinzVelo you should have it before Christmas - so maybe buy one for each of your kids, or even treat your partner to a trendy new ride.
This time next year we won't be able to move on our streets for GinzVelos. Watch this space.
Thank you for reading 20 articles this month* Join now for unlimited access
Enjoy your first month for just £1 / $1 / €1
*Read 5 free articles per month without a subscription
Join now for unlimited access
Try first month for just £1 / $1 / €1