Junior world champion Macey Stewart in hit-and-run incident
Australian Macey Stewart taken to hospital after hit-and-run; police seeking male driver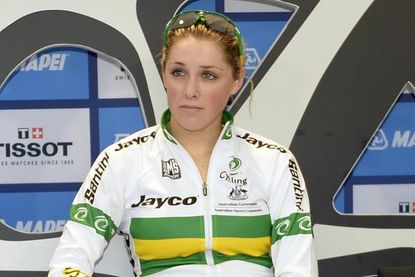 (Image credit: Graham Watson)
Junior time trial world champion, Macey Stewart, is recovering from a crash yesterday in Tasmania while police search for the hit-and-run driver responsible.
"I took the car's mirror off and I was lying on the road," the 18-year-old told The Advocate newspaper.
"I looked up and I had a fairly large truck coming for me head on, so I had to scramble off the road as fast as I could. The driver of the vehicle who hit me stopped and got out of his car, picked up the mirror, and then drove away. It's pretty shocking to think that someone can do that."
Medics took the Tasmanian to the hospital where X-rays revealed no broken bones. Scraped and bruised, she was able to travel to Adelaide this morning to attend a training camp.
"It (the hit) was pretty hard," she added. "He would have been going around 60 km/h and I was going around 25-30 km/h."
Police found the car, but continue to look for the driver. Investigators are searching for the suspect male and for the truck driver that had to avoid Stewart.
Stewart won the Worlds time trial in Ponferrada in September ahead of Denmark's Pernille Mathiesen and fellow Australian, Anna-Leeza Hull. At the 2014 Track Worlds in South Korea, she also won the Omnium and was part of the gold medal pursuit team.
"I'm not deterred from riding," said Stewart, "I love it too much and have big goals to achieve."
Britain's Melissa Lowther finishes in seventh place in 2014 UCI Road World Championships junior women's time trial
Thank you for reading 20 articles this month* Join now for unlimited access
Enjoy your first month for just £1 / $1 / €1
*Read 5 free articles per month without a subscription
Join now for unlimited access
Try first month for just £1 / $1 / €1