LANDIS OUT TO PROVE INNOCENCE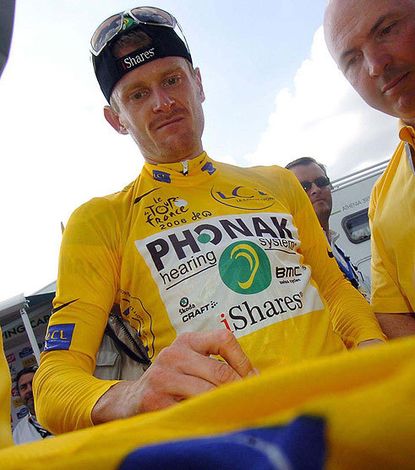 Floyd Landis, who tested positive for testosterone after winning stage 17 of this year?s Tour de France, claims there are flaws in the testing system.
He said his goal is to ?prove myself innocent?.
Speaking on BBC Radio Four?s Today programme this morning, Landis criticised both the Union Cycliste International (UCI) and World Anti-Doping Agency (WADA) for contravening protocol by announcing the results of his positive test before the B-sample was analysed.
?You?ll see that they clearly broke the rules and their excuse was pathetic. The only explanation I can come up with is there is some agenda here,? Landis said.
I can prove to you that the people at the laboratory are not objective about this. I have evidence to indicate they have the names of the riders connected to the numbers. In order to be objective without any kind of a bias it has to be completely anonymous.?
He denied ever taking performance-enhancing drugs.
Related stories:
August 8, 2006 - Landis goes legal
July 28, 2006 - Landis claims he has naturally high testosterone levels
July 27, 2006 - Landis suspended following positive test
July 26, 2006 - UCI announce failed test at Tour de France
HAVE YOUR SAY:
CW online members have been discussing this story on the forum:
'Drugs in cycling' thread - click here to join in the discussion
Thank you for reading 10 articles this month* Join now for unlimited access
Enjoy your first month for just £1 / $1 / €1
*Read 5 free articles per month without a subscription
Join now for unlimited access
Try first month for just £1 / $1 / €1
Keith Bingham joined the Cycling Weekly team in the summer of 1971, and retired in 2011. During his time, he covered numerous Tours de France, Milk Races and everything in-between. He was well known for his long-running 'Bikewatch' column, and played a pivotal role in fighting for the future of once at-threat cycling venues such as Hog Hill and Herne Hill Velodrome.