Raleigh stranded in Manchester en route to Mexico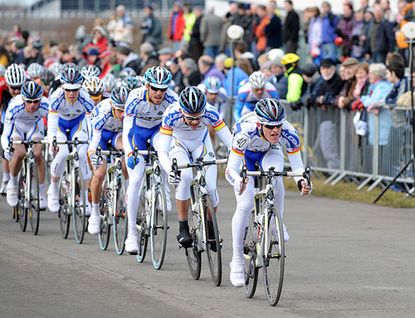 Raleigh's aim of getting to the Vuelta Mexico was grounded this morning thanks to the volcanic dust clouds drifting over the UK.
The team was due to fly at 04:00 this morning but is currently stranded at Manchester airport thanks to the clouds of volcanic dust drifting south from Iceland, which has caused havoc for thousands of people hoping to fly to or from the UK today.
Manchester airport has been closed until 13:00 but in the meantime, the team is hoping to take a 17:00 flight to Paris and from there a flight to Mexico tomorrow morning.
If that is not possible then the time schedule of taking later flights would mean that they would not make Mexico in time for the start of the race. Raleigh had been hoping to arrive in time to acclimatise to the altitude and the heat but simply arriving will now be top priority.
The team's 14-hour delay is being spent in the airport lounge where masseur tables have been put to use to rest on.
Local BBC TV has been covering events and team manager, Chris Truett, has been relaying the team's plight to the cameras.
Thank you for reading 20 articles this month* Join now for unlimited access
Enjoy your first month for just £1 / $1 / €1
*Read 5 free articles per month without a subscription
Join now for unlimited access
Try first month for just £1 / $1 / €1