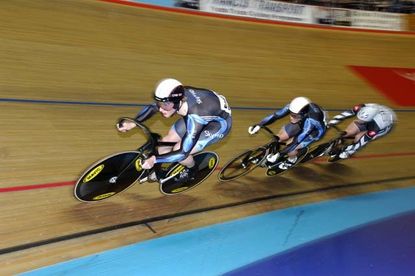 Popular track series Revolution, based at Manchester Velodrome, is appearing on Channel 4 tonight. The event was filmed as part of C4?s Destination 2012 series on 4Sport.
The first screening was on Sunday evening and will be repeated tonight and followed by a full Revolution 23 highlights show afterwards.
The Destination 2012 programme features interviews with the stars of the evening, including the queen of the night, Victoria Pendleton. After catching up with our Olympic heroes, presenter Iwan Thomas goes head to head with rugby legend Denis Betts at the Rollapaluza Roller Racing Challenge.
Iwan defeated Denis and will now be riding at the upcoming Revolution on 21st February. He?ll be taking on the Sprinters in a 200m TT at the start of the evening.
Channel M will also be screening several highlights programmes of Revolution 23 this week.
Revolution 24 will be Arnaud Tournant's final competitive track outing as he retires from competition after over a decade at the top of the sport. The event sold out several weeks ago, however highlights will be screened on both Channel 4 and Channel M.
For more information on the Revolution track series, visit www.cyclingrevolution.com.
Thank you for reading 20 articles this month* Join now for unlimited access
Enjoy your first month for just £1 / $1 / €1
*Read 5 free articles per month without a subscription
Join now for unlimited access
Try first month for just £1 / $1 / €1