Ride the most challenging climbs of the Tour de France for MS charity
Cyclists from around the world can join an international team to tackle the gruelling Cykelnerven event, which takes in many iconic Tour climbs over June 13-17 2018 - Money raised will help fund global progressive MS research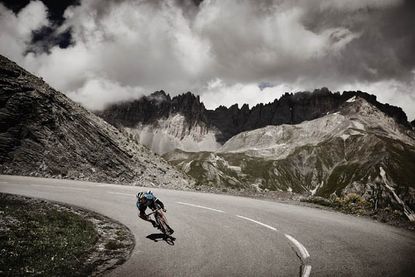 Promotional feature with MS International Federation
Have you ever fancied tackling some of the Tour de France's most iconic climbs?
The gruelling and rewarding Cykelnerven cycle challenge allows you to do just that, and for the first time ever riders from around the world can join forces to form an international team for multiple sclerosis charity MS International Federation.
Cykelnevren is Danish for 'nerve to ride', and you will certainly need nerves of steel to tackle the 355-kilometre route in the Pyrenees.
The route takes in some of the most famous and challenging climbs used in the Tour de France – and riders will tackle them just weeks before the professionals take to the same roads.
Every drop of sweat and turn of the pedal will raise funds for ground-breaking research into progressive multiple sclerosis and to do this the MS International Federation is seeking riders to represent their countries in this epic Tour de France event.
"And then we drive on the trail of Tour History's most fascinating myths, victories, defeats and dramas"
Eskild Ebbesen, Olympic gold winner and ambassador for Cykelnerven
Cykelnevren is divided into four stages.
Stage one on Wednesday, June 13, comprises 96km and takes in the climbs of Col du Portillon and Col de Menté, which are used on stage 16 of the 2018 Tour de France.
Stage two on Thursday, June 14, then sees riders tackle the entirety of stage 17 of the 2018 Tour, with three mountain peaks to conquer: Col de Peyragudes, Col de Val Louron Azet and Col du Portet.
On Friday, June 15, is stage three and attention is turned to two legendary cols over a 72km route: the Col d'Aspin and the Col du Tourmalet, both of which feature in stage 19 of the 2018 Tour.
Final stage four on Saturday, June 16, is a fitting finale to the challenge, with the 100km route taking in the Col de Bordéres, Col du Soulor and Col d'Aubisque, which also all feature on stage 19 of the Tour.
Not only will you be stepping in the footsteps for the world's greatest cyclists. You will be helping to create a world without MS. All money raised in this year's cycle goes towards the Progressive MS Alliance.
https://www.youtube.com/watch?v=vfp8UUS_tJM
The International Progressive MS Alliance is an unprecedented global collaboration of MS organisations, researchers, clinicians, pharmaceutical companies, and people with progressive MS, transforming the landscape of multiple sclerosis.
MS is a chronic, often disabling disease that attacks the central nervous system, made up of the brain, spinal cord and optic nerve.
While there has been dramatic and life-changing progress in the understanding and treatment of relapsing remitting MS, the discoveries that will lead to treatment for progressive MS have remained stubbornly elusive.
The progressive MS Alliance aim is raise the profile of and make progressive MS a global research priority by attracting the best minds in MS research, enabling collaboration and knowledge-sharing, and speeding up the testing, proving and regulatory approval of potential treatments to end progressive MS.
"No one would choose to be diagnosed with a chronic medical condition or relish the prospect of living with an illness with an uncertain prognosis. One of the hardest parts of a MS journey is the uncertainty – no one can show you a chart and say, 'you are here, and in ten years you'll be there'."
Gary Allen, person with progressive MS, Australia
Cykelnerven isn't just another Tour de France event of epic proportion, it is a movement to find international cyclists from around the world willing to join the fight for a world without MS.
Event details
When: June 13-17 2018
Where: France. Meeting in Toulouse before travelling to the Pyrenees.
We will get you over the line with one of the best support packages around.
In the build-up you will get:
• Personal training advice and support
• An amazing fundraising pack full of great ideas
• Fundraising resources to help you reach your target
• Regular emails and calls to keep you motivated
During the event you will:
• Meet up in Toulouse airport on the 13th June before 11 am
• Receive a full brief
• Receive a Cykelnerven jersey to wear with pride during the ride
• Be provided with breakfast and dinner at the hotels in France – you will have to provide yourself with supplies at departure and on the journey home
• Be provided with lunch/sandwiches (on the go) during all the stages
• Have all your hotel accommodation arranged (in shared double, or occasionally triple, rooms)
• Support and guidance from cycling coaches
• Support and service in France
• Transfer from and to the airport
After the event you will get:
• The respect of your peers*
• Several marriage proposals from admirers*
• A lifetime of memories
• A sweaty Cykelnerven jersey to remind you of what you achieved
* Not guaranteed by Cykelnerven. They may be put off by the sweaty jersey.
Applying for a place
For more information regarding how to gain a place in this unique event, please contact Daniel Magson on Daniel@msif.org
Registration fee: €1,000. You will pay a €250 deposit upon entry and the rest payable 1 month before the event.
Sponsorship minimum: €1,500
Extra: You will need to pay for your return flight to Toulouse and the transport of your bike
Thank you for reading 20 articles this month* Join now for unlimited access
Enjoy your first month for just £1 / $1 / €1
*Read 5 free articles per month without a subscription
Join now for unlimited access
Try first month for just £1 / $1 / €1