The 10 best cycling-friendly guest houses to visit in Scotland
Cycling Weekly explores the best places in Scotland to take your bike, in association with Private House Stays.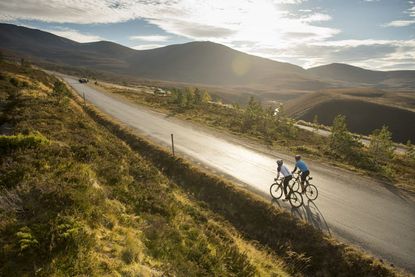 (Image credit: Andrew McCandlish)
1. The Town House, central Edinburgh
Located on Cycle Route 7 (754), The Town House is in an ideal city centre location for cyclists wishing to visit Scotland's capital city.
Owners Robert and Susan welcome all cyclists. Robert is a committee member of Lothian & Borders CTC and is happy to give advice on local cycle routes whether it be for road, touring or off-road disciplines.
Secure bike storage is available.
More information: The Town House
2. Seaholm Bed and Breakfast, North Berwick, East Lothian
Located on the beautiful Victorian seafront of North Berwick, just 40 minutes from Edinburgh, Seaholm Bed and Breakfast is perfectly located for the attractions of the town. East Lothian is described as ideal for singles, couples, families, cyclists and golf parties.
They offer high quality accommodation with a friendly and relaxed atmosphere.
More information: Seaholm Bed and Breakfast
>>> Best cycling sportives in Scotland
3. Grenich Steading . Nr Pitlochry, Perthshire
Situated on the Loch Tummel to Pitlochry cycle route, Grenich Steading is a perfect place to lay your head down after a long day on the bike. Owner, Lindsay Morrison offers a warm welcome to all cyclists.
If you are travelling without a car, Lindsay will happily pick you up as she has a very long drive!
More information: Grenich Steading
4. Hawthornbank Guest House, Oban Argyll
The Hawthorn Bank Guest House has its own private off-street parking for cars and bikes. Its elevated position makes for wonderful views across to Mull with a wooded footpath that will lead you to the town centre in moments.
It is situated at one end of cycle route 78 to Fort William. Owners Ian and Jermi offer a warm welcome to all cyclists.
More Information: Hawthornbank Guest House
5. Power House, The Isle of Mull
The Power House is situated on the Isle of Mull, a large island off the west coast of Scotland.
It is an excellent place for cyclists of all ages with almost entirely single-track roads and amazing scenery.
The Power House can be found on the south of the island overlooking the beautiful, Carsaig Bay.
The home has been extensively remodelled to provide large, comfortable rooms and en suite bathrooms. You will be warmly welcomed by the owners Tony and Bridget.
Tony is a professional photographer and has extensive knowledge of the island.
More Information: Power House
6. Acorn Guest House, Inverness
The Acorn Guest House is situated within walking distance of Inverness town centre and has been awarded a Trip Advisor certificate of excellence with a rating of 4.8 out of 5.
Hosts Dugie and Fiona offer a warm and friendly highland welcome to all visitors.
More Information: Acorn Guest House
7. Chrialdon House, Beauly Invernesshire
Chrialdon House is situated on many tourist routes to Loch Ness, Fort William, The West Coast and The Black Isle.
Owner, Isobel Crawford offers a warm welcome to her beautiful home in Beauly.
It is located on the Beauly Firth cycle route via Beauly and Inverness, a 26 mile round trip around the countryside.
Safe bike storage is available.
More Information: Chrialdon House
8. The Gardener's Cottage, Nigg, Inverness-shire
The Gardeners Cottage is a cosy, warm homestay retreat in the tiny village of Nigg, which is located on the north shore of the Cromarty Firth, just a 40 minute drive north of Inverness.
It has two available upstairs rooms, a private guest room with a log burner and access to kitchen.
Nigg, is a great location for local attractions and access to the west coast of Scotland.
More information: The Gardener's Cottage
9. Valley View, Thurso, Caithness, Scotland
Owners, Antoine and Stephen Robertson-Carswell offer a warm highland welcome to their family home, Valley View.
Set in very comfortable surrounding there is a lot to discover and enjoy in Caithness, the most northerly county in Mainland Scotland.
The house has been beautifully decorated by Antoinette a local and renowned interior designer.
Whatever your interest, Valley View aims to please.
More Information: Valley View
10. Broadmeadows Farmhouse, Selkirk, The Scottish Borders
Broadmeadows is located nearby the Orbea borders Bike festival (May 2017), inside the Yarrow Valley and is a lovely place to stay. Situated just outside of Selkirk in the Scottish borders it is steeped in tales of history and romantic myth.
24/7 access to the sitting room, dining room and garden is on offer.
Self catering is available with crockery, cutlery and crystal provided should you wish to bring your own food and drink.
More Information: Broadmeadows Farmhouse
Thank you for reading 20 articles this month* Join now for unlimited access
Enjoy your first month for just £1 / $1 / €1
*Read 5 free articles per month without a subscription
Join now for unlimited access
Try first month for just £1 / $1 / €1