Best cycling sportives in Scotland
Our pick of the best cycling events taking place north of the border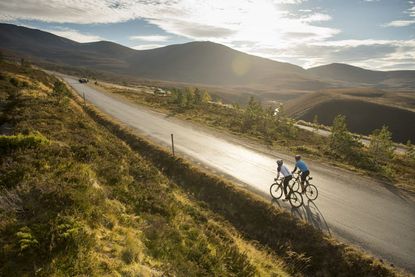 (Image credit: Andrew McCandlish)
While the number of sportives in Scotland may not be able to match the number of events in southern England, specifically sportives near London (opens in new tab), the quality and quantity of events north of the border has certainly improved in recent years.
What's more, if you're after a leg-tester, then these events are often among some of the hardest sportives in the UK (opens in new tab), with no shortage of long, hard climbs to really put you through your paces.
Finally, considering the expanse and beauty of Scotland, it is surprisingly poorly served by sportives, so make sure you get your entries in early.
Wattbike No Excuses Falkirk
Where: Falkirk
When: Sunday, March 26
More information: www.ukcyclingevents.co.uk/events/no-excuses-sportive-falkirk
The Wiggle No Excuses series is coming north of the border for the first time in 2017. The concept is simple: you pay your entry fee, then if you turn up and ride, the organisers will return your entry fee, no questions asked.
>>> Best cycling sportives for beginners
As an added bonus the Falkirk location is easy to reach from Glasgow and Edinburgh, meaning there's literally no excuse not to get on your bike for this early season event.
Evans Ride It! Callander Road Sportive
Where: Callander, Stirling
When: Saturday, April 8
More information: www.evanscycles.com/evans-cycles-callander-road-sportive-saturday-8th-april-2017-EV292062 (opens in new tab)
Ranging from 25 to 87 miles, there are three routes to choose from for this spring time test. You'll need your early season climbing legs to take the strain of the 6600 feet of ascent the long route dishes up as it head through the heart of the Trossachs.
Etape Loch Ness
Where: Inverness, Highlands
When: Sunday, April 23
More information: www.etapelochness.com (opens in new tab)
The route of this sportive is simple, but the riding certainly isn't. Starting and finishing in Inverness, you'll head south east along the northern bank of Loch Ness, making your way all the way to the bottom, where you'll turn back along the other side to get back to Inverness.
>>> 12 of the best upcoming sportives to ride
The bad news is that that involves a fair bit of climbing as the road heads away from the loch and into the hills at the mid-point of the route. But at least you won't have any traffic to worry about, as the event is run entirely on closed roads!
Tearfund Drumlanrig Challenge
Where: Thornhill, Dumfriesshire
When: Saturday, April 29
More information: www.drumlanrigchallenge.btck.co.uk (opens in new tab)
Last year this charity event raised more than £11,000 for the Tearfund charity, a Christian organisation supporting the world's poorest communities.
All three routes start and finish in the grounds of the magnificent Drumlanrig Castle, where vast quantities of cakes and sandwiches are available for participants.
A lumpy affair, the new 81 mile route will see riders climb 5,000 feet, though on the way some of those cakes will be available at the food stops, making it all worthwhile.
Marmotte Ecosse Gran Fondo
Where: Kilmarnock, East Ayrshire
When: Sunday, April 30
More information: www.golazocycling.com/Tour_of_Ayrshire (opens in new tab)
This event ticks about as many boxes as a sportive could. A Gran Fondo, this is a race at the front and a sportive further back down the field, and all on closed roads.
It is also a qualifying event for the UCI's Gran Fondo World Championships and part of the parent company's Marmotte series, which includes events all over Europe.
Though it is only 70 miles, gnarly roads and some steep ascents are certain to tire the legs.
King of the Mountains Sportive
Where: Aboyne, Aberdeenshire
When: Sunday, May 14
More information: www.komsportive.co.uk (opens in new tab)
As you can probably guess from the name, there is no shortage of climbing in the King of the Mountains Sportive, which tackles the toughest and most spectacular roads that north eastern Scotland and the Cairngorms have to offer.
>>> Best cycling sportives in Yorkshire
There are two routes to choose from (110mi and 100km), with the highlight of both being the ascent to the Lecht ski station, which will take riders almost 30 minutes to climb.
The Solway Sportive
Where: Dumfries, Dumfries & Galloway
When: Sunday, May 14
More information: www.dumfriescc.btck.co.uk/SolwaySportive (opens in new tab)
Organised by Dumfries Cycling Club, this event is easily accessible from the north west of England as well as much of Scotland.
You won't find too much in the way of climbing on any of the three courses, but with sections of the medium and 71 mile long routes along the Solway Firth, wind blowing off the sea is bound to set another challenge.
Tour of the Kingdom
Where: Dunfermline, Fife
When: Saturday, May 27
More information: www.dunfermlinecc.com/sportive (opens in new tab)
Another sportive organised by a cycling club, this time Dunfermline. Of the three routes the 99 mile Black course is sure to challenge, especially with more than 5,000 feet of ascending.
There is little respite throughout the day as it undulates all the way round. Even the run along the coast past Kirkcaldy provides little opportunity to take it easy.
Brewin Dolphin Ochil Hills 100
Where: Loggend, Fife
When: Saturday, June 3
More information: www.ukcyclingevents.co.uk/events/ochil-hills-100-sportive
The Brewin Dolphin Ochil Hills sportive takes in some of the best riding that the Ochil Hills have to offer. The route is peppered with tough climbs, and if your legs aren't quite up to the full 100 mile route, there are also 42 and 75 mile options available.
>>> Best cycling sportives near Bristol
There is also the option of a Velo Club entry, which will let you ride and chat with a special VIP guest, and receive breakfast and coffee at the start, and a complementary massage on your return.
Isle of Mull Sportive
Where: Tobermory, Mull
When: Sunday, June 4
More information: www.mullsportive.co.uk (opens in new tab)
That this event takes place entirely on the Hebridean island of Mull makes it almost unique. While the majority of both the 43 and 87 mile routes follow the island's coast, neither course is flat, with the longer route climbing well over 6,500 feet.
It may be more difficult to get to Mull than many other places, but such a challenge in these idyllic isolated landscapes makes this a must do event.
Oh, and proceeds go to local causes.
Trossachs Ton
Where: Stirling
When: Sunday, June 18
More information: www.action.org.uk/trossachs-ton (opens in new tab)
There are two different routes for this Stirling-based sportive, both of which head west out of the city to give your legs a rude awakening in the Fintry and Gargunnock Hills.
>>> Best sportives near Cambridge
However the main challenge is the ascent of Dukes Pass, a tough 4km climb that is tackled once on the shorter 75 mile route, and twice on the longer 105 mile route.
The Loop
Where: Garve, Ross-shire
When: Saturday, July 8
More information: www.hivelo.co.uk (opens in new tab)
One of two events organised by the Highland Velodrome Trust - a charity aiming to create a central hub for cyclists to train in the area - this is quite possibly the United Kingdom's most northerly sportive.
With very nearly 7,000 feet of climbing over 108 demanding miles, this is a tough challenge for all but the very fittest. Though The Loop takes place at the height of summer Highland weather can be unpredictable, so be prepared.
Evans Cycles Ride It! Lanark Road Sportive
Where: Lanark, South Lanarkshire
When: Sunday ,July 30
More information: www.evanscycles.com/evans-cycles-lanark-road-sportive-sunday-30th-july-2017-EV292071 (opens in new tab)
A decent amount of climbing awaits those who head either south from Scotland's central belt, or north across the English border for this event in the Cheviot hills.
The 80 mile long route begins and ends on fairly flat roads, so expect the middle miles to contain much of the 4,700 feet of climbing.
Bealach Mor
When: Saturday, September 2
Where: Kinlochewe, Scotland
More information: www.handsonevents.co.uk (opens in new tab)
The Applecross peninsula on the west coast of Scotland may be remote, but it's making the trip to ride one of the most spectacular roads in the UK: Bealach na Ba. This hair-pinned climb is the highlight of the Bealach Mor sportive, climbing over 600m over its 10km length, with spectacular views of the Isle of Skye from the summit.
Tesco Bank Tour o' the Borders
Where: Peebles, Scottish Borders
When: Sunday, September 3
More information: tourotheborders.com (opens in new tab)
This closed road event starts and finishes in Peebles and takes in the beautiful border country. While there are only 4659 feet of climbing on the 74 mile long route, the monster gradients of the Talla Wall, early in the ride, are bound to take their toll.
With closed roads come minimum speeds, though a limit of less than 10mph should be manageable for most.
Closed roads, beautiful scenery and a manageable route, as Graeme Obree says in the promotional video "why wouldn't you do it?"
Galloway Gallop
Where: Galloway Forest Park, Dumfries
When: Sunday, October 1
More information: www.ukcyclingevents.co.uk/events/galloway-gallop-adventure-cross
For something a little different, the Galloway Gallop offers the riders to test their off-road skills on the tracks and paths of the Galloway Forest Park.
Intended for mountain bikes or cross bikes, the Galloway Gallop is largely made up of forest roads, with plenty of testing climbs (rewarded with stunning views) to test the legs.
The Culloden Cycle Challenge
Where: Culloden, Inverness
When: Saturday, October 7
More information: www.hivelo.co.uk (opens in new tab)
Take trip into British history by riding this event in the north of Scotland. The names for each of the three rides celebrate the Battle of Culloden where the Jacobites were defeated by the Duke of Cumberland's men in 1746.
At 21 and 42 miles respectively the Skirmish and Wee Battle will not prove too taxing, though the Big Battle is enough for many.
By the time riders roll into the finish at the Battle of Culloden visitor centre they will have 85 miles behind them and be safe in the knowledge that their entry fee has helped the Highland Velodrome Trust.
Thank you for reading 10 articles this month* Join now for unlimited access
Enjoy your first month for just £1 / $1 / €1
*Read 5 free articles per month without a subscription
Join now for unlimited access
Try first month for just £1 / $1 / €1
Founded in 1891, Cycling Weekly and its team of expert journalists brings cyclists in-depth reviews, extensive coverage of both professional and domestic racing, as well as fitness advice and 'brew a cuppa and put your feet up' features. Cycling Weekly serves its audience across a range of platforms, from good old-fashioned print to online journalism, and video.