In search of Britain's best cycling roads
With bike in tow, we headed to the north-west Highlands of Scotland and found some of the best cycling roads in the country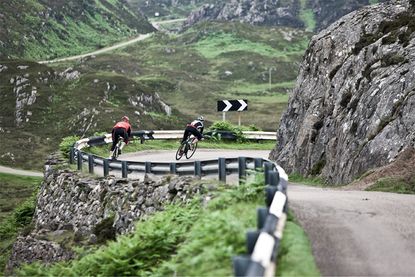 Get The Leadout Newsletter
The latest race content, interviews, features, reviews and expert buying guides, direct to your inbox!
Thank you for signing up to The Pick. You will receive a verification email shortly.
There was a problem. Please refresh the page and try again.
The most northerly part of Britain, the Scottish Highlands, are wild and vast. Even better, they're almost completely deserted. Almost, but not entirely. Dozens of Spanish trawlermen, young and old, wearing almost to a man the same Adidas tracksuits while watching the football on the telly was certainly not what we expected to see upon entering a bar in a village in the far north-west of Scotland. Isn't this supposed to be the land of single malt, not San Miguel?
But then this part of the world is far from what you'd expect, especially if you come to ride a bike. Lochinver, perched on the edge of the north-west Highlands, sits right next to some of the best cycling roads in Europe. Except, to enjoy riding them you don't have to get on a plane, you don't have to stock up on euros, and you don't have to turn off data roaming. They even speak the same language. Just about.
>>> Cycling training plans: get fitter, ride faster and go further
Stepping off the Caledonian Sleeper in Inverness to clear blue skies and crisp air, it's immediately apparent that this part of northern Scotland isn't your usual Highland landscape of soaring, snow-capped Munros and broad glens. Everything is on a smaller scale: small mountains separated by small lochs and small woods, with small roads weaving their way in-between them all.
On the wild side
It's still a wild, empty landscape. Sutherland and Caithness, the two counties in the far north, have a population of fewer than 40,000, all of whom would fit inside Wembley Stadium twice (with plenty of seats going spare). Statistically speaking, there are fewer than two people per square kilometre; in reality, in many areas away from the towns and villages, it's even sparser. If riding a bike is about escapism, this has got to be one of the best places to escape to.
>>> Recover right: the three Rs of recovery
Roads are a lifeline up here; it comes as no surprise that they're well maintained (thanks, European Union). Indeed, the distances between villages whose amenities extend beyond a postbox can be so extraordinarily great (especially to a mind habituated to cycling in south-east England) that it makes every leg from settlement to settlement seem like a mini adventure. There are so few residents — and the area is relatively far off Scotland's mainstream tourist trail — that there are very, very few cars.
At one with nature
So far away from big cities, motorways, air corridors, farms or forests — even the birds seem to whisper up here — the wilderness can actually be eerily quiet, and a little bit spooky. It's not uncommon to encounter red deer but there must be other animals lurking out there in the heather and peat, hiding and watching. Otters, it turns out, are particularly good at this. Despite the area being one of the best places in the country to see these small furry mammals, we didn't manage to spot a single one.
Don't mistake it for boring, however. Even if they take the line of least resistance through the wilderness, the roads are still sent all over the place like a ball of wool that a cat's been playing with. The scenery? It's breathtaking; at times dark and brooding, at others the full enormity of the landscape opens out right in front of your eyes.
The riding is above all unpredictable, even down to what's coming around the next corner. Throw in a few black-and- white crash barriers and the place feels like a racetrack, adding drama and speed to the corners. Just whisper this (and if you're a die-hard roadie, you might want to look away now): with all the descents, twists and turns, it's a little bit like mountain biking.
Perhaps a better way of putting it is that riding around here takes you back to your first ever bike rides, when you went zooming around the houses with your mates on bikes that weren't measured by lateral stiffness or rim depth, but on the paint job — days when you were jealous of your best friend's bike because it had more gears, and more gears meant that it was better (although let's be honest, readers who ride with nine or 10-speed cassettes and go out riding with someone with 11-speed, is this not still the case?)
Best in Britain
Predictably, the north-west Highlands do not have huge Alpine climbs or the wall-to-wall heat of the Mediterranean. That said, the weather spends so much of its time in a dither that often you can simply wait for the rain to blow over and the sun to come back out again. In the summer, there are 18 hours of daylight to choose from — around 18 hours and 14 minutes on the longest day of the year, which leads to considerable confusion at 4am.
So are these the best roads in the United Kingdom? We'd say so. Perhaps this part of the country isn't designed for serious, structured cycle training. Yet bouncing up tough little climbs and bombing down sweeping descents, riding a bike up here is one thing above all: it's fun.
Highland essentials
Lightweight waterproof jacket
The weather in the north-west Highlands can change in the blink of an eye; a stowaway waterproof means you won't get caught out, or soaked through, by a shower.
>>> Better than Castelli Gabba? Wet weather cycling jackets on test
Map
Ordnance Survey Landranger 15 covers Lochinver and Loch Assynt. For a little more detail: Explorer 442.
Insect repellent
Midges in northern Scotland have been waiting all winter for a tasty cyclist or two.
Compact chainset
Though not essential, a compact chainset will deal with the steep gradients. A 27 or 28-tooth rear sprocket should also do the trick if you ride with a standard double.
Travel options
Train
The Caledonian Sleeper service departs London Euston for Inverness every evening (except Saturday) and picks up passengers at Watford Junction, Crewe and Preston. Cycle reservations are available — book well in advance to secure a space.
Contact: www.scotrail.co.uk
Bus
D&E Coaches operates a daily bike bus (a coach with a cycle trailer) between Inverness Bus Station and Durness via the north-west coast between the third Monday in May and the last Friday in September. Service 804 runs seven days a week in July and August. Booking is required 24 hours in advance. 01463 222444.
Contact: www.inverness-durness-highland-bike-bus.co.uk
Aeroplane
Flights to Inverness airport are available from London Gatwick, Luton and Bristol (Easyjet) and London City, Manchester and Birmingham (Flybe).
Contact: www.hial.co.uk
Where to stay
Lochinver, Durness, Ullapool and Lairg are the biggest settlements in the north-west; one of the highlights of this part of Scotland is the sheer number of very affordable, very comfortable bed and breakfasts. Phone in advance in the summer; if they're full, the host will almost always be able to recommend somewhere else nearby.
Highland dining
The Lochinver Larder, Lochinver
OK, so pastry and a pint perhaps isn't the best post-ride nutrition strategy. We don't need to tell you that. But the pies at the Lochinver Larder, situated on the front in Lochinver, are not to be missed.
The Larder also serves real ale from the Black Isle Brewery near Inverness, and it knows what it's doing with coffee too if a quick stop is all that's required.
www.lochinverlarder.co.uk
Velocity Cycle Cafe, Inverness
Proving that cycle cafes aren't just for London and the South-East, Velocity combines a cosy cafe with a bike kitchen and workshop. It also runs outreach programmes with local schools, aiming to stop the drop-off in cycling levels when children leave primary school.
"There is a huge culture of cycling in Inverness, but not in an outward and boastful way," says Penny Phillips, manager at Velocity.
"I did see three teenagers walk out of the nearby college and one said, 'Have you been in there,' and the other said, 'No it's too hipster for me'. But we're definitely not hipster. I hope we're inclusive. You get every walk of life in here."
Bealach na Ba
Not only does the spectacular 'pass of the cattle' contain the greatest ascent of any climb in the UK (from near sea level to 626m), it is as close as you can get to a real Alpine series of switchbacks without having to leave the country.
There's something a bit intimidating about the climb: the 20 per cent gradients near the summit, the weather rolling in off the Atlantic or the dark towers of rock that loom over the thin sliver of tarmac up to the top. Even the name sounds like it's plucked out of Macbeth.
From Inverness it is a 90min drive (150min from Lochinver); alternatively Strathcarron station (90min from Inverness) is 10 miles away from the foot of the climb.
Photographs by Chris Auld
Thank you for reading 20 articles this month* Join now for unlimited access
Enjoy your first month for just £1 / $1 / €1
*Read 5 free articles per month without a subscription
Join now for unlimited access
Try first month for just £1 / $1 / €1
Get The Leadout Newsletter
The latest race content, interviews, features, reviews and expert buying guides, direct to your inbox!
Richard Abraham is an award-winning writer, based in New Zealand. He has reported from major sporting events including the Tour de France and Olympic Games, and is also a part-time travel guide who has delivered luxury cycle tours and events across Europe. In 2019 he was awarded Writer of the Year at the PPA Awards.