TOUR OF IRELAND START LIST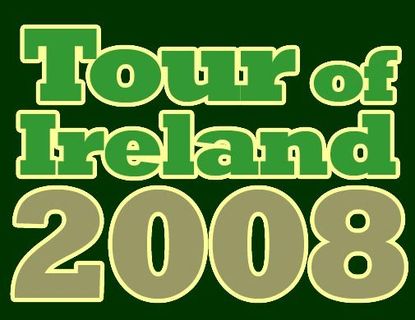 Updated Wednesday, August 27, 8:30am

Sixteen teams have signed up for this year's five stage Tour of Ireland (Wednesday August 27 to Sunday August 31, 2008).
Thanks to a 2.1 ranking on the UCI calendar, the race has attracted some of the world's top teams, from Europe, Australia, USA and South Africa.
And there are some very big names on the start list - such as Mark Cavendish, Bernhard Eisel (Team Columbia), David Millar, Magnus Backstedt and Julian Dean (Garmin-Chipotle).
We will be covering the Tour of Ireland in full here on www.cyclingweekly.com.
You can read our full preview of the event - including stage list and route map - in the news section>>
Team Columbia
Manager: Brian Holm
1Cavendish, MarkGBR
2Eisel, BernardAUT
3Hansen, AdamAUS
4Pinotti, MarcoITA
5Possoni, MorrisITA
6Rabon, FrantisekCZE
7Barry, MichaelCAN
Garmin Chipotle presented by H30 Cycling Team
Manager: Matt White
11Millar, DavidGBR
12Martin, DanIRL
14Backstedt, MagnusSWE
15Dean, JulianNZL
16Maaskant, MartijnNED
17Lowe, TrentAUS
18Sutton, ChrisAUS
Tinkoff - Credit Systems
Manager: Omar Piscina
22Klimov, SergueiRUS
23Gottfried, AlexanderGER
24Chernetskiy, IlyaRUS
25Mazzanti, LucaITA
26Riccio, BernardoITA
27Graziato, MassimoITA
CSF Group Navigare
Manager : Fabiano Fontanelli
31Savini, FilippoITA
32Priamo, MatteoITA
33Tomei, FrancescoITA
34Bongiorno, RubenARG
35Richeze, MauroARG
36Richeze, MaxARG
Type 1 Cycling Team
Manager : Edward Beamon
41Aldape, MoisesMEX
42Surutkovych, AlexUKR
43Calabria, FabioAUS
44Chadwick, GlenNZL
45Kobzarenko, ValeriyUKR
46Wilson, MattAUS
47Abraham, EmileTRI
Topsport Vlaanderen
Manager: Walter Planckaert
51Coenen, JohanBEL
52De Haes, KennyBEL
53Hovelijnck, KurtBEL
54Maes, NikolasBEL
55Neyens, MaartenBEL
56Nolf, FrederiekBEL
57Renders, SvenBEL
An Post - M Donnelly-Grant Thornton -Sean Kelly Team
Manager: Kurt Bogaerts
61O'Brien, PaidiIRL
62Cassidy, MarkIRL
63Gallagher, StephenIRL
64Lloyd, DanielGBR
65Fleeman, DanielGBR
66Lisabett, KennyBEL
67De Schrooder, KurtBEL
Irish National Team
Manager: Frank Campbell
71McCann, DavidIRL
72Griffen, PaulIRL
73Healion, PaulIRL
74Aiken, RogerIRL
75Lacey, SeanIRL
76Concannon, MicealIRL
77O'Sullivan, StephenIRL
Karpin Galicia Cycling Team
Manager: Jesus Blanco Villar
81Troncoso Sobrino, RamonESP
82Rabunal Rios, GonzaloESP
83Mouron Doldan, Juan FranciscoESP
84Fernandez Cruz, DelioESP
85Fernandez Sainz, AlbertoESP
86Abal Diego, DavidESP
87Paleo Mosquera, AlejandroESP
SouthAustralia.com/AIS
Manager: Brian Stephens
91Clarke, SimonAUS
92Sulzberger, WesleyAUS
93Meyer, TravisAUS
94Walker, JohnnieAUS
95Semple, AdamAUS
96King, MattAUS
97Dempster, ZakkariAUS
Rabobank
Manager: Piet Kuijs
101Aernouts, BartBEL
102Adams, JoeriBEL
103Berkhout, ThomasNED
104Van Poppel, BoyNED
105Sinkeldam, RamonNED
106Rabou, ThomasNED
107Van Staeyen, MichaelNED
MTN Energade
Manager: Kandice Buys
111McDonald, NeilRSA
112George, DavidRSA
113Woolcock, WaylonRSA
114Thomson, JayRSA
115Potgieter, BradleyRSA
116Evans, KevinRSA
117van Heerden, JuanRSA
Rapha Condor Recycling.co.uk
Manager: John Herety
121Downing, DeanGBR
122House, KristianGBR
123Greenwood, BenGBR
124Partridge, RobGBR
125Briggs, GrahamGBR
126Appleby, DaleGBR
127Holt, SimonGBR
Pinarello CandiTV
Manager : Phil Griffiths
131Downing, RussellGBR
132Elliott, MalcomGBR
133Roche, AndyIRL
134Davis, LeeGBR
135Murray, TomGBR
136Williams, PeterGBR
137Kipling, MathewGBR
Joker Bianchi Team
Manager: Gino Van Oudenhove
141Kristoff, AlexanderNOR
142Nordhaug, Lars PetterNOR
143Stokstad, IngarNOR
144Bohler, JoachimNOR
145Vold, Sven ErikNOR
146Willman, FrederikNOR
147Sommerseth, StianNOR
Pezula
Manager: Brian O'Loughlin
151O'Loughlin, DavidIRE
152Power, CiaranIRE
153Page, KieranGBR
154Jennings, CameronAUS
155Wetterhall, AlexSWE
156Ericsson, FredrikSWE
157Irvine, MartynIRL
RELATED LINK
Tour of Ireland preview - includes stage list and route map
Thank you for reading 10 articles this month* Join now for unlimited access
Enjoy your first month for just £1 / $1 / €1
*Read 5 free articles per month without a subscription
Join now for unlimited access
Try first month for just £1 / $1 / €1
Founded in 1891, Cycling Weekly and its team of expert journalists brings cyclists in-depth reviews, extensive coverage of both professional and domestic racing, as well as fitness advice and 'brew a cuppa and put your feet up' features. Cycling Weekly serves its audience across a range of platforms, from good old-fashioned print to online journalism, and video.