Tour Series Venues Announced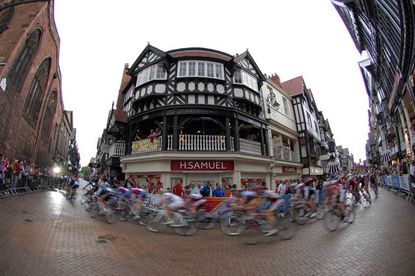 Sweetspot, the organiser of the Tour Series, have announced the ten venues for this year's televised criterium series.
It all kicks off on Tuesday May 25 with a race around the Canary Wharf skyscrapers in London. Events then continue nearly every Tuesday and Thursday until the final in Woking on 24 June.
The only exception is the Chester round which takes place on Monday June 21 to avoid a TV scheduling clash with an England World Cup game. All rounds will be shown the day after each race at 7pm on ITV4.
Included in the series this year are four new venues. Alongside the Docklands area of East London, these are Durham, Portsmouth and Kettering.
The opening round at Canary Wharf promises a spectacular backdrop. The event will be based on the North and South Colonades which run right through the heart of the East London business district. Right in the middle stands One Canada Square, the iconic tower that the area is best known by.
The organisers have also confirmed that Tour Series style events will take place in Dublin and Belfast over the summer. Although only exhibition events this year, they will test the water for the launch of a whole Irish based series in 2011.
Tour Series Dates and Venues
Tuesday May 25: Canary Wharf
Thursday May 27: Durham
Tuesday June 1: Portsmouth
Thursday June 3: Exeter
Tuesday June 8: Southport
Thursday June 10: Kettering
Tuesday June 15: Peterborough
Thursday June 17: Stoke on Trent
Mon June 21: Chester
Thurs June 24: Woking (Final)
Dean Downing and Matt Cronshaw inspect the course at Canary Wharf
Thank you for reading 20 articles this month* Join now for unlimited access
Enjoy your first month for just £1 / $1 / €1
*Read 5 free articles per month without a subscription
Join now for unlimited access
Try first month for just £1 / $1 / €1