Wilier optimistic about strong season start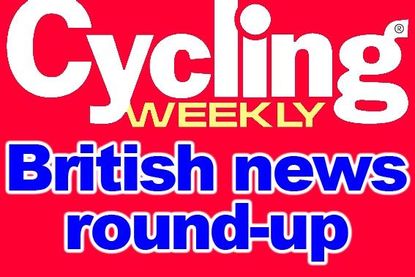 Get The Leadout Newsletter
The latest race content, interviews, features, reviews and expert buying guides, direct to your inbox!
Thank you for signing up to The Pick. You will receive a verification email shortly.
There was a problem. Please refresh the page and try again.
WILIER OPTIMISTIC ABOUT WEEKEND SEASON START
The Wilier/Big Maggys/Prendas team is optimistic about making a strong start to the season, despite coming up against some strong opposition from bigger teams with bigger budgets.
The team will make its first major race appearance this weekend at the Premier Calendar opener, Tour of the Reservoir.
"We're looking forward to giving the likes of Rapha, Endura and Motorpoint a run for their money but with the riders teams like those are fielding it will be tough," explained Wilier's Will Bjergfelt.
"The level will be a lot higher this year but we're looking forward to it and hopefully bringing home the bacon defending our title at the Tour Doon Hame after the Reservoir," Bjergfelt added.
Bjergfelt's team-mate Marcin Bialoblocki has just returned from his second training camp in Majorca and is already in good shape.
Bjergfelt is happy to work for Bialoblocki for the meantime: "My personal goals come later in the season so my job will be to look after Marcin at the Reservoir.
"My race fitness is not as good as it could be but that's because I've been focusing on getting the base miles in. I'm looking forward to getting stuck in, though".
Wilier line-up for Tour of the Reservoir: Will Bjergfelt, Marcin Bialoblocki, Ben Luckwell and Grant Bayton.
Reservoir preview>>>
PATTEN FARING WELL IN BELGIUM
Young aspiring pro Dan Patten is going from strength to strength in his year spent riding full time in Belgium.
Another strong showing at the weekend saw Patten taking a top thirty placing in Merelbeke despite being boxed in during the dash for the line.
"I got away in the main break of 13 and spent most of the race out front," Patten explained. "It was looking like it would have been successful, but with a couple of good teams missing, we got pulled back by a group of 20 or so around 2km from the end.
"I jumped again hoping that there may have been a bit of a relax as the groups merged but it wasn't to be."
Patten added that though he was well positioned within the final kilometre, "I got too boxed in as the group swung over and the sprint began to open up. I couldn't get out and ended up 23rd."
Patten, however, was philosophical in defeat. "I showed myself well again though at the front of the race and I think it's only a matter of time before I pull out a win over here."


Above: Patten (in red) looking composed
DIBBEN DOES THE DOUBLE IN BELGIUM
Jonathan Dibben is making his name in Belgium. Last weekend, the Hargroves Cycles youth took back-to-back wins in 'Nieuwelingen' races in Ichtegem and Heestart
In the first race, 16-year-old Dibben narrowly outgunned his Belgian rival in a two-up sprint. To top things off, Halesowen A and CC rider James Lockier - part of the SE cycling selection making the trip - held off the chasing group for third place.
Sunday's race in Heestart panned out much the same: another two-man breakaway and another win for the Youth Olympics silver medalist.
Ichtegem, 20 March
1. Jonathan Dibben (GBr) 1h 18m 00s
2. Jonas Rickaert (Bel) s.t.
3. James Lockier (GBr at 54 seconds
11. George Stevens (GBr) at 1.00
Heestart, 21 March
1. Jonathan Dibben (GBr) 1h 36m 36s
2. Cedric Vanhoutteghem (Bel) at same time
3. Maxime Farazijn (Bel) at 1.46
12. James Locker (GBr) at 1.50
17. George Stevens (GBr) s.t.
LONDON WOMEN'S RACING LEAGUE KICKS OFF
The inaugural race of the London Women's Cycle Racing League (LWCR) will take place at the "Surrey League at Goodwood" events on Sunday March 28.
Sponsored by lookmumnohands.com, LWCR aims to encourage grassroots women's racing at all levels in London and the South East.
The opening round at Goodwood Motor Circuit is open to 3rd and 4th category women racers as well as novices. Those just starting out in racing will be chaperoned by experienced riders during the race.
There will be prize money on offer to the top racers, the top 4th racer as well as lap primes.
The leading League rider will be presented with the LWCR League leader's jersey post-race, which she can wear at the following round at Hog Hill on April 10.
BUMPER FIELD FOR CONCLUSION TO ICEBREAKER SERIES
The third and final round of the Welsh Cycling Icebreaker Series witnessed a bumper entry of 109 youth riders from all over the UK. Riders have been battling for the title of overall Icebreaker series winner, with competition being particularly tough this year.
Organiser Michael Heaven said, "The support for this new series has been amazing and the racing action has been a really high standard.
"Welsh Cycling want to make the events an annual series to help develop track racing in Wales and give the riders a high quality event early in the year.
"We have tried to make the as events friendly and as fun as possible for the riders, parents and volunteers. The series has been a great success and I hope next year it will be bigger and better".
Thank you for reading 20 articles this month* Join now for unlimited access
Enjoy your first month for just £1 / $1 / €1
*Read 5 free articles per month without a subscription
Join now for unlimited access
Try first month for just £1 / $1 / €1