Alex Peters and Nicola Juniper win Tour of the Reservoir
Madison-Genesis rider Alex Peters wins opening round of British Cycling Elite Road Race Series - Nicola Juniper (Pearl Izumi) takes inaugural women's Tour of the Reservoir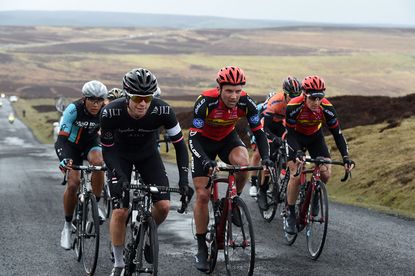 The National Junior Series champion two years ago, Alex Peters is the early leader in the British Cycling Elite Road Race Series after securing overall victory in the opening round, the Tour of the Reservoir Two-Day in Northumberland.
The 20-year-old Londoner led a one-two for Madison Genesis with Peter Hawkins taking second place ahead of Yanto Barker (Team Raleigh).
The top three laid the foundations on the first 65-mile stage, featuring in an early nine-man break which stayed away to the end where Peters attacked inside the last two kilometres to win in a sprint from Hawkins with Barker ten seconds down in third.
Sunday's 104-mile stage, over eight laps of a circuit around Derwent Reservoir, featured a bold bid by Tom Moses (Ralpha Condor JLT) who, with 18 seconds to make up on Peters, was the leader on the road when he led the field by 39 seconds.
He was caught inside the final lap as Evan Oliphant (Team Raleigh) strung out a 27-strong chasing group, and the Scottish rider went on to win the stage for the second year running with Peters safe in fifth place, nine seconds down.
"Everyone seemed to have their hands on the tops of the bars, so I decided to have a go," said Oliphant. "I was just spinning the big gear out and the elastic snapped. The race is two weeks earlier than last season, I don't start to fire before the end of April so I'm pleased with that result."
The inaugural Women's Tour of the Reservoir, the first round of the BC Women's Road Series, saw Nicola Juniper (Pearl Izumi-Sports Tours International) outsprint Alexie Shaw (Epic Cycles-Scott) for the biggest win of her career.
The 32-year-old from Brentwood, who was third in the opening round of the National Time Trial Series a fortnight ago, was just two seconds ahead on the line, while Molly Weaver (Epic Cycles-Scott) led in the bunch more than three and a half minutes further back.
Thank you for reading 10 articles this month* Join now for unlimited access
Enjoy your first month for just £1 / $1 / €1
*Read 5 free articles per month without a subscription
Join now for unlimited access
Try first month for just £1 / $1 / €1
Snowdon Sports is a long-established independent sports news agency, which supplies editorial to a range of media outlets - such as Cycling Weekly - as well as sports governing bodies. Snowdon Sports often covers results at Cycling Time Trials events in the UK and has long been a source of information and imagery to Cycling Weekly.