Peter Kennaugh to lead Team Sky in Giro's opening stage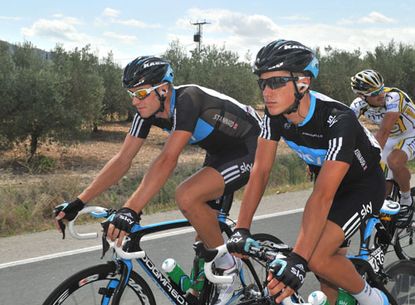 Pete Kennaugh will lead Team Sky out of the Reggia di Venaria Real at the start of the Giro d'Italia's opening team time trial tomorrow afternoon.
The Briton has been chosen for what, according to Sky's coach Bobby Julich, is the most important job of the day. "You don't win the race in any corner, but at the start you can definitely put the guys in the red quicker if you do it poorly." Julich said.
Essentially any rider could lead the team, but Julich believes the best way to start is for a smooth build-up to top speed rather than an all out sprint away from the line. "You're still going to get away fast, but [would] you get away fast and correctly without putting anybody under un-needed stress?"
The 21-year-old Brit gets the honour thanks to his track background giving him the ability to take the team of nine smoothly up to top speed. "He has so much class, he comes off the track and has experience building it up to speed quickly," Julich said. "The guys behind him are going to have to maintain and then up that speed from there."
"I can't wait to race tomorrow," Kennaugh said. "It's the one stage I've really been looking forward too, even if it is just first stage. It's only a couple of hundred metres to progressively get them up to speed, and then maybe do a few seconds at that speed and then peel off. But with me doing all the track work in th winter means I'm the type of rider who can take the start a bit better. I'm used to that fast acceleration you need for the team pursuit."
The team will hold a single file line through the narrow streets of Venaria Real, a suburb of Turin, but once out of the town the roads open up and a more traditional double pace line will form with the riders rotating in a chain.
Julich reconnoitred the course back in March and has briefed the riders on how to ride it. The riders drove the course in the team cars ahead of the team presentation on Firday evening and will ride the course once on Saturday morning.
The 19.3km is tight for the first and last kilometres with some corners and gentle cobbles thrown in to add to the spectacle.
Two years ago HTC-Highroad (then Columbia-Highroad) won the opening team time trial ahead of Garmin, putting Mark Cavendish in pink - the first Briton to wear the race leader's jersey.
Last year Bradley Wiggins became the second Brit to wear the Maglia Rosa when he won the opening prologue, an individual time trial. Whoever leads the winning team over the finish line in Turin tomorrow will wear the first leaders jersey of the 2011 event.
Related links
Giro d'Italia 2011: Cycling Weekly's coverage index
Riis defends Contador's participation at the Giro d'Italia
Cavendish set to start winning again at the Giro
External links
Thank you for reading 5 articles this month* Join now for unlimited access
Enjoy your first month for just £1 / $1 / €1
*Read 5 free articles per month without a subscription
Join now for unlimited access
Try first month for just £1 / $1 / €1