Keagan Girdlestone 'severed carotid artery and jugular vein' in life-threatening crash
The U23 rider is continuing his recovery in an Italian hospital, but has suffered severe nerve damage after his brain was starved of blood and oxygen after the crash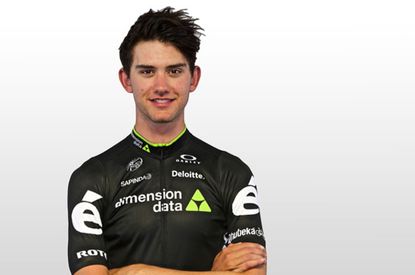 The extent of the injuries suffered by Keagan Girdlestone after his horror crash in which he went through the rear windscreen of a team car have been revealed by his family.
The South African suffered severe injuries to his neck and throat according to a statement on his Facebook page (opens in new tab), with no injuries to his face as was earlier suggested.
A severed carotid artery in his nack and the jugualr vein, along with nerve and muscle damage during the accident, which took place 119km into the Coppa della Pace race in Italy in early June, has left the 19-year-old with bruising on the brain and a damaged vocal cord.
The massive blood loss at the scene that starved his brain of oxygen has also left him with limited movement on his left side and difficulty breathing due to the nerves controlling his diaphragm becoming damaged.
Though his movement has improved and he his breathing on his own, that statement said the full extent of his injuries is yet to be revealed.
"At this stage the full extent of his injuries is unknown as well as the period of rehabilitation," the statement reads.
"With continued rehabilitation it is hoped that all functionality will improve as time passes. However, any possible long term effects are still unknown.
"Your continued support, prayers and positivity is greatly appreciated by Keagz and his family."
Girdlestone remains in hospital in Rimini after the crash, which saw him crash into the rear window of his Dimension Data for Qhubeka team car as he chased on to the peloton in the race in Sant'Ermete di Rimini.
Outpouring of support has come from all sides of the cycling community, with Kenyan-born Chris Froome showing his support from the Critérium du Dauphiné.
"We are shocked to hear the news about your crash, you really gave us a big scare," he said. "We are wishing you a speedy recovery and hopefully we'll see you on the road soon and back in the peloton where you belong."
Thank you for reading 5 articles this month* Join now for unlimited access
Enjoy your first month for just £1 / $1 / €1
*Read 5 free articles per month without a subscription
Join now for unlimited access
Try first month for just £1 / $1 / €1