Vincenzo Nibali's success down to ability to 'unplug' says sports director
Tour de France leader Vincenzo Nibali able to handle the stress by 'switching off' when needed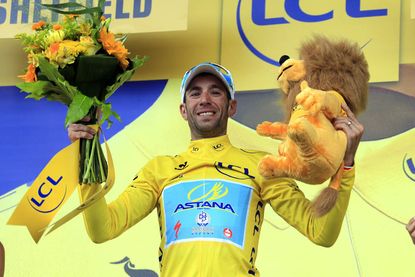 (Image credit: Graham Watson)
Vincenzo Nibali's ability to unplug before and after the Tour de France stages gives him an extra edge, according to one of his former team directors.
"A half-hour after the stage he won't even know where he is," Cannondale's Stefano Zanatta told Cycling Weekly. "You have to tell him, 'Vincenzo, it's time to go to anti-doping or give an interview because you won.'"
The 29-year-old Italian matured in team Liquigas, now Cannondale, for seven years before joining current team Astana. Zanatta worked with Nibali in those years that he wore the white jersey at the Tour de France, won the Vuelta a España and led the Giro d'Italia.
Zanatta explained that while some of the team's leaders would think too much, Nibali could simply flip the switch off.
"Ivan Basso or the others were already thinking about the next days, what happened in the race, but it appeared that Vincenzo did not even know where he was after the stage," added Zanatta. "'Hey, you need to do this interview,' we'd tell him. He'd question why and not even realise that he was in the leader's jersey.
"His secret is recuperation. Vincenzo is able to recover in the 30 minutes ahead of a time trial or when he gets in the team car after the podium... Luckily, he's able to just pull the plug out and be in his own world to relax. I'd often see him sleeping on the bus during the ride to the start. He has that ability that the others don't have."
Nibali's best results before joining Astana included third overall in the Tour, third in the Giro and the 2010 Vuelta win. Those races prepared him for the Tour, but Zanatta said that he believes that the ability to relax is part of Nibali's nature.
"He had the white jersey at the Tour in 2008, but that didn't bother him. It's like he can just shut off and nothing worries him," Zanatta continued.
"He's able to manage the stress well. Sure, wearing the yellow jersey is not the same as the white, the pink in the Giro, or the red in the Vuelta, but he's matured and, best of all, has the ability to recover right away after a stage."
After Saturday's stage 14 to Risoul, Nibali held the yellow jersey with a 4-37-minute advantage over Alejandro Valverde. Zanatta said, "The only way for him to lose is by making a mistake. He has the advantage."
Thank you for reading 5 articles this month* Join now for unlimited access
Enjoy your first month for just £1 / $1 / €1
*Read 5 free articles per month without a subscription
Join now for unlimited access
Try first month for just £1 / $1 / €1