Revolution to host unique three-man Madison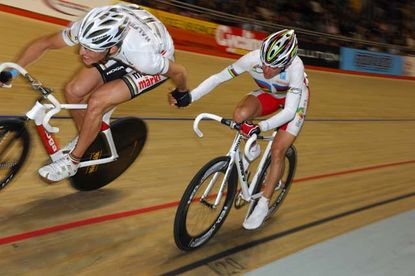 The National Cycling Centre in Manchester is gearing up for some six day style racing and entertainment at the next Revolution on November 20 with a three-man Madison confirmed as the highlight of a packed endurance programme.
It will be the first time the race has been hosted at Revolution and Event Director James Pope is expecting a unique spectacle.
"The Madison is always a spectacular event but we wanted to take it up a level," commented Pope. "With three endurance riders in each of the teams, this Madison format provides an exciting opportunity for us to include the race in the Revolution's team competition."
"It will also enable us to make the most of the endurance talent we have on display," he continued. "We have some of the best six day riders in the world who will be on top form ahead of the Ghent Six. Combined with the British stars I think it is going to be the highlight of the Revolution season."
The race will be much faster than a traditional two man Madison and will be tactically more complex as Revolution's Technical Director Phil West explains.
"The extra man will help keep the pace high as the three riders share the work load," he said. "The first part of the race will be run as a chase with no sprints. This means the teams will be attacking from the start to try and take lap. Once the sprints start in the second half points will be up for grabs so the racing will change."
He continued: "It will be full gas from start to finish but the tactics will play a huge part as the teams decide how to use their riders to best effect."
The three man Madison format is featured occasionally on the continent where two six day riders pair up with a road rider. This will give six day stars the edge over the British contingent but ultimately it will be the best team who will win the race.
Rapha Condor Sharp captain Dean Downing will team up with Owain Doull and Christian Grassmann and is looking forward to the experience.
"I've never ridden a three man Madison before but it sounds really exciting," he commented. "I know they do it at the German six day races so the guys like Marvulli and Lamapter will have experienced it before."
He added: "At the end of the day, the race will be won by the team so we'll have to figure out a game plan pretty quickly. It will certainly be exciting for the spectators to watch so I'm looking forward to it!"
Full details of the teams are available on www.cyclingrevolution.com and tickets are available to purchase online or by calling 0843 208 1840.
Related links
Thomas leads Team Sky at next Revolution
Thank you for reading 20 articles this month* Join now for unlimited access
Enjoy your first month for just £1 / $1 / €1
*Read 5 free articles per month without a subscription
Join now for unlimited access
Try first month for just £1 / $1 / €1