TfL announces plans for Bow roundabout redesign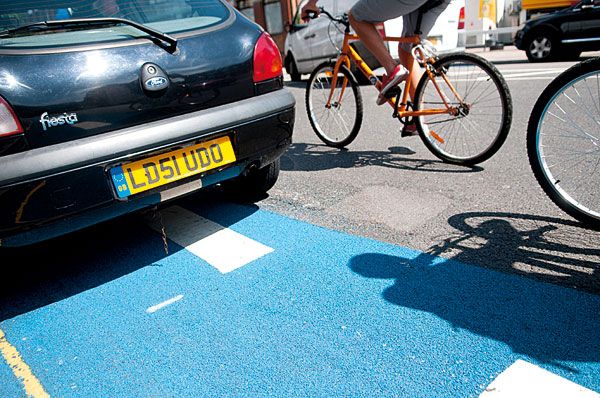 Transport for London has today released proposals for the redesign of the controversial Bow Roundabout in East London following a review of the junction, which marks the end of Cycle Superhighway 2.
Three suggested improvements have been put forward by TfL. These include a dedicated green-light phase for cyclists at traffic lights, additional cycle lanes leading to the junction, and an increased space for cyclists on the flyover across the roundabout.
The review comes after Brian Dorling, 58, and Svitlana Tereschenko, 34, were both killed on the roundabout after colliding with HGVs.
Campaign groups and local politicians, along with the victim's families, were active in highlighting the dangers that the junction presented to cyclists. The Mayor of London Boris Johnson subsequently ordered a review into all major junctions on the Superhighway network and all major schemes planned on TfL roads.
TfL announced that it will now begin a consultation period with cycle groups, local boroughs and other stakeholders to establish a programme for action. It hopes to make changes to the junction before the Olympic Games in less than 200 days' time.
The London Cycling Campaign, which published its own designs for the roundabout, organised a candlelit vigil for the victims, and encouraged cyclists to write to Boris Johnson to 'make Bow safe,' was cautious about the proposals.
"We're delighted Transport for London has finally responded to cyclists' calls for Bow roundabout to be redesigned," LCC head Ashok Sinha announced, "though it's a tragedy two people had to die first."
"We'll scrutinise these proposals in detail to make sure the safety benefits are real," he explained.
Full details of the proposal can be found on the TfL website:
http://www.tfl.gov.uk/corporate/projectsandschemes/22247.aspx
Related links:Cyclists protest over London road safetyHow Britain has failed cycling London Assembly backs cycle safety proposals
Father of dead cyclist calls London Assembly 'disgraceful'
Pressure on London mayor after 16th cyclist killed in capital this year