Why a good night's sleep could be your hidden performance aid
Training, nutrition and technological advances may improve your cycling ability but ensuring your sleep is on point is key to reaching your optimum potential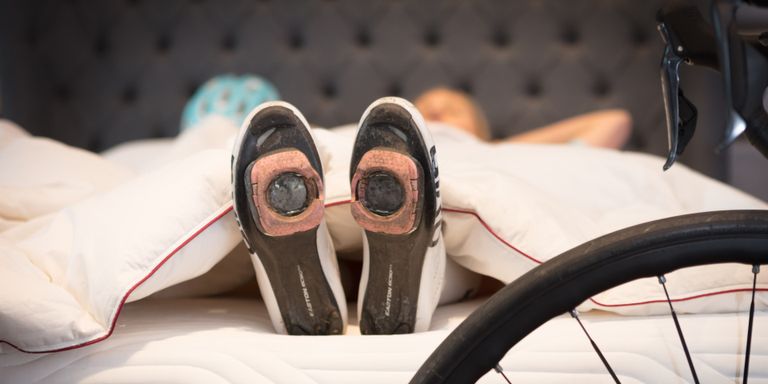 (Image credit: Tempur/Drops)
It is often one of the most neglected or even ignored performance aids for a cyclist, but the importance of a good night's sleep cannot be underestimated.
The recovery aspect of training can be helped by post ride stretching, good nutrition and time off the bike. But ensuring you are getting enough good quality sleep can really make the difference long term, both physically and psychologically.
There are a few ways to improve your sleep but ensuring you have a mattress and pillow which matches these requirements is key to getting the most out of your sleep as a recovery tool.
Here are some of the top tips to ensure that sleep becomes your number one secret training weapon.
Multitude of benefits
You may think that sleep is just an automatic part of life but having a relaxing and recovery focused night's sleep is something that all cyclists should be looking to achieve.
Staving off potential illnesses, allowing muscles to repair as well as allowing your mind to mentally reset are just some of the benefits your body can gain from a solid night's sleep.
Consistent, good quality sleep also increases your brain functionality allowing for better decision-making skills, which can be crucial when out on the bike as well as forming memory pathways meaning that bike handling skills aren't forgotten when mattered most.
Preparing for a good night's sleep
The classic 'eight hours sleep' may be the generic timeframe that people work towards when talking about sleep. Whilst this is a good target to aim for ensuring the lead up to bedtime is just as focused upon is important as well.
Simple changes such as avoiding alcohol or caffeine just before bed, which can stunt your sleep, or unwinding after a long day by carrying out relaxing and calming activities just prior to sleeping can help you doze off quicker.
Meditating, taking a bath or reading a book can be great ways to transition into a good night's sleep.
Buy the right mattress and pillow for you
This could be the wisest investment you ever make, given that you will spend at least a third of your life using it. Ensuring you have a mattress and pillows that support your back, neck and head is a key component to a great night's sleep.
TEMPUR® offers a wide mattress (opens in new tab) and pillow (opens in new tab) selection, with a range of firmness levels, mattress material (opens in new tab) styles and sizes to suit your preference.
Creating a sleep haven
Having a comfortable bed set up may form the key part of your nighttime routine, but it's also important to ensure your bedroom is dark, cool, and quiet - many people neglect this.
Fitting black out blinds, ensuring room temperatures are maintained to a healthy level as well as fitting sound reducing double glazing windows alongside sound proofed walls are excellent ways to improve the sleep experience.
Stick to a routine
Your body enjoys sleeping to set a rhythm, both in terms of the length of sleep you can get as well as the times you go to sleep and wake up day after day.
We may not all require eight hours sleep for optimal performance on the bike, but ensuring you stick to a schedule that works for you — especially in the lead up to any big rides or races — can be key to performing your best when it matters.
Why good sleep is crucial for cyclists
When it comes to making mattresses and pillows, TEMPUR® is at the elite end of performance and satisfaction for its customers. For decades, competitors have attempted to replicate the unique TEMPUR® feeling. TEMPUR® has always manufactured its own products and is the only mattress company in the world to be certified by the International Space Foundation.
TEMPUR® has recently entered the cycling world by becoming sponsor of the women's cycling team Drops Le Col, with their riders set to reap the benefits from a good night's sleep.
As Bob Varney, Drops Le Col Team Director, said: "Having additional support from Le Col and TEMPUR® not only ensures our riders have the highest quality performance kit on the bike, but also the highest quality support off the bike. Our collective thoughts are focused on building these exciting partnerships further to gain world tour status in 2022."
Tobin James, Vice President TEMPUR® Northern Europe added: "We are delighted to be a part of the DROPS Le Col journey for this very exciting season. We are passionate about cycling not only as a sport, but as a sustainable way of travelling and improving health and wellbeing. TEMPUR® products will help the riders sleep better, longer, deeper, and we feel privileged to be able to do our bit in promoting women's cycling and women's sport more generally. With consistent wins and huge potential, DROPS Le Col's vision for the future is both compelling and motivating, and we are looking forward to accompanying the team on the road to the world tour."
Thank you for reading 5 articles this month* Join now for unlimited access
Enjoy your first month for just £1 / $1 / €1
*Read 5 free articles per month without a subscription
Join now for unlimited access
Try first month for just £1 / $1 / €1
Paul Knott is a fitness and features writer, who has also presented Cycling Weekly videos as well as contributing to the print magazine as well as online articles. In 2020 he published his first book, The Official Tour de France Road Cycling Training Guide (Welbeck), a guide designed to help readers improve their cycling performance via cherrypicking from the strategies adopted by the pros.