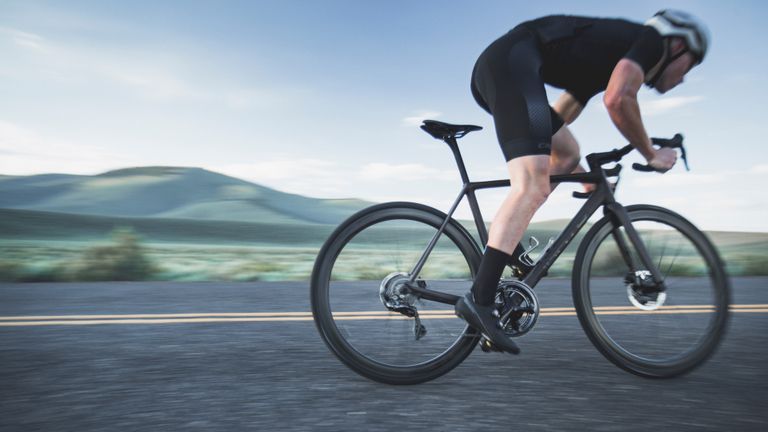 (Image credit: Cadex)
A new set of wheels is usually high on most cyclists' wish list. That's because it's a simple upgrade which can deliver large tangible benefits. It's also somewhere where bike brands often scrimp on the spec of their new bikes, as it's easy to make a saving on cheaper wheels to keep the sticker price down.
If you do decide to upgrade your wheels, you'll want the best tech you can buy and Cadex has some of the most innovative design features out there.
Here's why a wheel upgrade should be high on your wish list and what Cadex has to offer for the serious cyclist.
Aerodynamic advantage
It's a key benefit of deeper section carbon rims, and Cadex's wheels have been designed to maximise your aero benefits without compromising handling. Cadex offers road wheels in both 42mm and 65mm depths and in rim and disc brake formats; there are also four spoke and disc time trial wheels in the line-up.
Cadex has designed its rims for real world conditions, so they'll perform well in crosswinds. With their low weight and strength they also ride well when climbing and at lower speeds. Some deeper section wheels can handle edgily in gusty crosswinds, but Cadex's profile is designed for predictable handling whatever the weather and even for lighter riders.
Cadex's wheels use the latest hookless bead technology too, where there's a flat side to the rim flange where it connects to the tyre. This makes for a narrower rim edge, so there's less of a lip where it meets the tyre, which leads to smoother airflow. There's a wider contact area with the side of the tyre too, so the connection is more airtight. Plus it's lighter.
The aero advantages of Cadex's wheels doesn't stop with the rims though, as Cadex's unidirectional carbon spokes have an aero profile that's teardrop shaped, rather than the more standard elliptical cross-section, so they cut through the air more effectively at the top of their rotation, where their ground speed is twice that of the bike.
Lower weight
Select the right wheel upgrade and it's one of the easiest ways to shave a useful few hundred grams off your bike's weight. Even better, it's rotational mass that's decreased, lowering your wheels' inertia, so they spin up with less effort and generally make your bike feel more lively.
Cadex's road wheels are competitively light and undercut equivalent wheels from some prestige brands by up to 200g. In rim brake format the Cadex 42 wheelset weighs 1265g and for disc brakes 1327g, while the even more aero Cadex 65 weighs 1425g for rim brakes and 1501g for disc brake wheels.
That means that a combination of a Cadex 42 front wheel and a 65 rear wheel is still very lightweight but offers increased aero benefits and good handling. It's the combination recommended by Cadex.
Cadex has achieved its wheels' light weight with a lay-up of the carbon fibre in the rims that strengthens them around the spoke holes and avoids extra weight between them, where there's less stress. The carbon fibre spokes in Cadex's road wheels are around 45% lighter than conventional steel spokes and they roll on low mass alloy hubs too.
Lower rolling resistance
Cadex's wheels are designed for use with its own lightweight tubeless tyres, which are available in 23mm, 25mm or 28mm widths. It recommends the 23mm tyres for use with its 42mm deep wheels and 25mm on the Cadex 65.
It's another area where a wheel upgrade can bring benefits. Testing, including that by Cycling Weekly, has shown that tubeless tyres can be more efficient than either conventional tubed clinchers or tubular tyres.
That's down to the elimination of the friction that occurs between the inner tube and the tyre casing as the wheel rotates and deforms. You can run tubeless tyres at lower pressures too, which means that they conform more to the road surface, rather than dissipating energy in vibration of the bike and rider.
Cadex's low friction hubs also help to eliminate frictional losses, so its wheels spin up quickly and maintain speed well.
Increased robustness
A stronger wheel will last longer and cope better with road imperfections - and maybe some gravel excursions as well.
Cadex's Dynamic Balanced Lacing system gives you stronger wheels despite their light weight. Most wheels are built to even up forward-facing and rearward-facing spoke tension at rest. But once you're riding, the forces from pedalling mean that there's a significant difference.
So Cadex uses slightly different length forward-facing and rearward-facing spokes, which results in uneven tension at rest. This evens out when riding though, making for a more robust wheel. The carbon fibre spokes make for a very strong, tight build too. It's another example of the real world practicality and benefits of Cadex's designs.
Better serviceability
Finally, an upgraded wheelset can improve serviceability and durability, thanks to better design and higher quality components.
Cadex machines its hubs to close tolerances and uses high precision sealed steel bearings, lowering rolling resistance and load on the bearings and increasing durability. Cadex's bearings are easy to replace and the hubs are compatible with CeramicSpeed ultra-low friction bearings if you're looking for the ultimate upgrade.
There's a durable hardened steel freewheel ratchet for longevity. It has fast 12-degree engagement and the freehub comes in either Shimano or SRAM XD-R configuration.
So if you're looking for the ultimate wheel upgrade for your summer riding, take a look at the Cadex 42 and Cadex 65 road wheels. They tick all the boxes for a quality ride and a step change in performance. They're backed up by Cadex's two year warranty and five year incident replacement guarantee for the original owner too.
Paul started writing for Cycling Weekly in 2015, covering cycling tech, new bikes and product testing. Since then, he's reviewed hundreds of bikes and thousands of other pieces of cycling equipment for the magazine and the Cycling Weekly website.
He's been cycling for a lot longer than that though and his travels by bike have taken him all around Europe and to California. He's been riding gravel since before gravel bikes existed too, riding a cyclocross bike through the Chilterns and along the South Downs.