Advice for beginner cyclists from Dame Sarah Storey
How two new riders got into cycling and advice from 17-time Paralympic gold medallist Dame Sarah Storey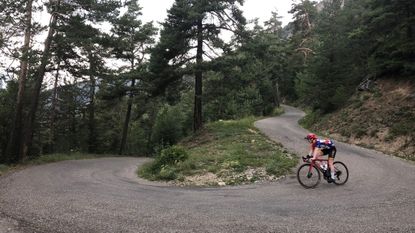 (Image credit: Bott and Co)
Promotional feature in association with Bott and Co Solicitors
If you want to start cycling but are not sure where to begin, Bott and Co Solicitors has extensive advice for would-be riders. Bott and Co's She Can Ride site is particularly geared to new female riders, with Bott and Co highlighting the gender gap in cycling. But its advice is equally applicable to men who want to take up cycling. And Bott and Co has teamed up with Dame Sarah Storey to help get you riding.
Bott and Co surveyed UK women, finding that almost half would like to take up cycling. But respondents cited concerns about dangers on the road, personal safety and a lack of cycling infrastructure, like segregated bike lanes, along with poor weather as significant barriers to participation. 90 per cent of women surveyed didn't own a bike and only 16 per cent cycled every day.
"I love cycling and feel so fortunate to be able to ride my bike every day but I know not everyone has that confidence," says Dame Sarah Storey, and she's got some helpful ideas for new cyclists.
Dame Sarah Storey's advice for new cyclists
Dame Sarah's advice starts with visiting your local bike shop. After all, you'll need an appropriate bike for the riding you want to do. If you have a bike already you need to make sure it's roadworthy and parts like handlebars and saddle are comfortable and right for you.
Dame Sarah also recommends finding others to ride with. You'll discover new routes, make friends and feel safer. Bott and Co has a cycling club finder tool to help you meet up with other riders.
Plan your route - how far you want to ride and how long for and where you want to go. Dame Sarah points out that this will help you to pack enough food and drink for your ride.
You don't need to go out and buy a lot of gear to get riding, although a helmet is always advisable. But there's loads of cycling clothing and equipment sold by bike shops and online that will make riding a lot more comfortable.
Finally, Dame Sarah advises always packing a lightweight rain jacket. It will help if there's a chill wind too.
What's other new riders' experience of starting to ride?
21-year-old Olivia French, a student at Durham University, started cycling during lockdown, when the lower traffic helped her feel less intimidated by traffic.
"I think I'd also been worried about feeling too sore or having the right fitness," she says, but she really enjoyed the chance to get out and explore on her bike.
"I think cycling has something in it for everyone. It's such a diverse sport, you can do road, off-road, mountain-biking, you can use it to commute or go riding with friends. It's something people can do together and I'd urge everyone to give it a go," she continues.
Another new starter, Judith Worrall was 47 when she first took up cycling, with the objective of getting fit and losing some weight.
"Before I started riding I'd always been put off by not having the right kit or the right bike, plus the idea of wearing lycra when I was overweight felt a bit daunting. There was also the physical aspect and the thought of riding alone," she says.
Judith joined her local cycling club.
"I think some of the cycling clubs have a reputation from having members who are speed-merchants which can put some people off," she says.
"But a lot of people in the club were happy to go out at 15mph or just do 15 miles and for them it was much more about the mental benefits and getting away from it all."
Judith was also worried about what gear she'd need and what would happen if she had a problem while out riding. But riding with her club put her mind at ease.
"Don't put pressure on yourself. It doesn't matter if you haven't got the right kit as long as you're safe and you've got a helmet. Just go out and enjoy it and if you want to go on from there you can do.
"Cycling is good for your body, your mind and your soul," she concludes.
How to find a cycling club
Joining a club is one of the best ways to kick-start your cycling. Cycling clubs aren't just about men on flashy bikes going for huge rides and trying to drop each other. They'll have group rides for all abilities including much shorter, slower rides which emphasise the social side of cycling, with cafe stops. Faster riders in the group will wait up for those behind, so that they all stay together.
They're a great place to meet other riders, share tips and advice, develop your skills and make cycling friends.
To help riders, Bott and Co has a cycling club finder on its site. Just input your address and how far afield you want to search and the Club Finder will give you a list of clubs near you and their contact details. Check out Bottonline for more cycling advice.
Thank you for reading 5 articles this month* Join now for unlimited access
Enjoy your first month for just £1 / $1 / €1
*Read 5 free articles per month without a subscription
Join now for unlimited access
Try first month for just £1 / $1 / €1