Cycle the Isle of Man on the spectacular Zurich Lighthouses Challenge
Take part in a unique sportive this July, with travel and accommodation from Steam Packet Holidays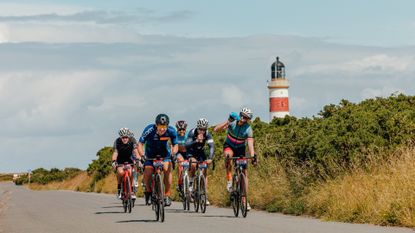 (Image credit: Zurich Lighthouses Challenge)
Spectacular coastal scenery, rugged terrain, ancient ruins… the Zurich Lighthouses Challenge has it all. This summer, you can take part in a memorable ride around the Isle of Man, at a sportive event that truly has something for everyone.
Over the weekend of 1-2 July 2023, you'll be able follow in the tyre tracks of thousands of riders who've experienced the joys of three memorable courses designed to suit riders of various abilities. These are roads where top professional cyclists Mark Cavendish and Lizzie Holden honed their craft, and that's not the route's only claim to fame – on a clear day it's possible to see Northern Ireland, Scotland, and England across the sea from various points on the circuit.
Starting from Castletown, the Isle of Man's historic capital, for the first time, the epic Full Circle route will take you on a 100-mile (160km) route around the island. It features 6,800 feet (2000m) of ascents, which is enough climbing to get you up Ben Nevis one-and-a-half times! While the Half Circle course cuts down on the distance, this 51-mile route follows a significant portion of the main circuit, so you'll still be facing plenty of challenging inclines as you explore the island. And the 17-mile Quarter Circle p/b DotPerformance course is the ideal way for leisure cyclists, novices and families to get a feel for the event. Children are welcome to take part, though it's recommended that anyone under 16 rides with a responsible adult.
Kids can also enjoy the Pedal Party, where families will get the opportunity to ride together on closed, traffic-free roads around Castletown. There'll be advice on hand from expert cycle instructors and the road safety team to help the kids become better, more confident riders.
Whether you want to take part in the Zurich Lighthouses Challenge individually or join forces with friends in a team of four, the focus of the event is each individual doing their best. There is no winner, though everyone who rides will enjoy the benefits of electronic timing, along with a medal for taking part, an event t-shirt, access to feed zones, a service course supported by local bike shop Cycle 360, and that all-important massage when you reach the finish line.
And you don't even need the latest bike to take part. You can use any type you like, whether it's a state-of the-art road model, a tandem or even an e-bike. Vintage clothing is also welcome if you want to complete the course in retro style.
Entry costs just £45 for the Full Circle (£150 for a team of four), £35 for the Half Circle and £25 for the Quarter Circle.
Enter the Zurich Lighthouses Challenge here
Getting across the water
While cycling across the Irish Sea isn't going to be an option, getting to the event couldn't be easier. In fact, Steam Packet Holidays, official travel partner of the Zurich Lighthouses Challenge, have put together some fantastic travel and accommodation packages for the weekend.
Ferry and accommodation deals start at £140 per person for two nights (based on two adult foot passengers), and you can reserve your spot for just £50. Your beloved bike doesn't have to feel left out, either, because it's also included in the price. In fact, if you're lucky enough to sail on the Steam Packet's new boat, the Manxman, your bike will travel in unprecedented luxury. The new ferry (which will be in service by the time the Lighthouses Challenge takes place) will boast expanded bike storage and the opportunity to ride your bike onto the car deck – even when you book as a foot passenger.
Cyclists from the British mainland can sail from either Heysham in Lancashire or Liverpool, though boats also operate from Dublin and Belfast. Steam Packet can help with your bookings – just phone (01624 645777) or email (info@steampacketholidays.com).
Check out the Steam Packet website to see the deals on offer, and get set for an exciting weekend of cycling – for you and your bike.
Thank you for reading 10 articles this month* Join now for unlimited access
Enjoy your first month for just £1 / $1 / €1
*Read 5 free articles per month without a subscription
Join now for unlimited access
Try first month for just £1 / $1 / €1