Get personalised health recommendations with Thriva's blood test
Thriva analyses your blood and its GPs give you personalised advice to monitor your fitness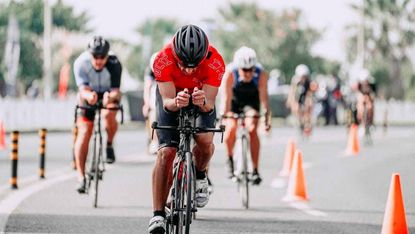 (Image credit: Thriva)
If you're putting a lot of effort into upping your cycling fitness, it can manifest in surprising ways. That might include vitamin, hormone and iron deficiencies and indirect effects like poor sleep.
Unless you're a pro with access to a team doctor, it's difficult to find out what's going on with your body, but Thriva offers a solution that's open to anyone. Thriva calls this "health confidence", with its goal to take the guesswork out of managing your health.
It's got a special Cycling Weekly Offer (opens in new tab) that gives you 20% off its standard price for its blood tests.
Simple process
Thriva will analyse a sample of your blood, which you draw yourself at home, with its NHS registered GPs providing you with feedback on your results. There's a whole battery of tests that Thriva can perform on your sample and it either uses a quick, three minute quiz to hone in on the right tests for you, depending on your objectives, or you can select a pre-built set of fitness-related tests.
With mine being primarily around fitness, Thriva's online questionnaire asked about my general fitness goals, asked about aspects of my health and any family disease history, my height and weight and other information, which resulted in a suggested package of blood tests. These included liver function, cholesterol, vitamin and hormone levels. You can add other tests from the battery of those available, or remove some tests, and there's an explainer on the site for why each test is recommended for you.
Once you've signed up and paid for your tests, the blood collection kit arrives within a couple of days. It consists of one or two blood collection tubes, depending on the set of tests you've selected, three lancets to prick your finger and draw your blood (you only need to use one, the others are spares), a reply paid envelope to send back the sample and a few other items.
There are detailed instructions with the kit and online on how to collect your sample, as well as video guidance online. Tests need to be performed after eight hours or more of fasting, so I took the sample first thing in the morning. It's worth carrying the instructions through thoroughly, including pre-prep like drinking plenty of water and warming your hand, to ensure that you can get your sample efficiently.
Thriva's tests work on very small samples of blood: I just needed to fill a 0.6ml sample tube with my blood. For some tests a second 0.25ml sample may be needed as well. If you're squeamish about drawing blood, you can pay £30 to have a nurse do it for you at a pharmacy.
Then you just seal your tube and shake it to mix the contents, put the sample in the reply paid envelope, pop it in a mail box, preferably a priority one, and wait 48 hours for the results, so the whole process can take as little as 72 hours from order.
The whole process from signing up to getting your results and recommendations back is very slick and easy, with a straightforward flow of information and inputs through Thriva's site.
Reviewed by a doctor
Rather than just sending you back a series of numbers, Thriva backs up its test with an assessment by its in-house NHS registered GPs, so you get professional guidance on what your results mean. You also get recommendations on how to improve and ensure that you stay as fit as possible for longer.
Once you've got your first set of results, there's lots of support to help you make good use of them, in addition to the GP's review. Thriva has a series of health plans on line, which include a 12 week general health plan and a 4 week heart health plan and recommends things like supplements, actions and even recipes. There's a 4 week nutrient plan about the be launched.
If you have test results from other sources, you can upload those to Thriva too, so all your tests are recorded in one place. There's a phone app to access your test results and Thriva's guidance, as well as the online computer app.
For an additional fee you can talk to one of Thriva's exercise coaches or a nutritionist as well.
Keeping track of your health shouldn't just be a one-off, you should monitor your blood results regularly, so with Thriva you can sign up to have regular three-monthly tests, or you can choose your own test frequency.
An offer for Cycling Weekly readers
Take a look at Thriva's site (opens in new tab) for more details. If you want to sign up for Thriva's blood testing service, there's a 20% discount for Cycling Weekly readers when you follow the special Cycling Weekly Offer (opens in new tab) link.
Thank you for reading 5 articles this month* Join now for unlimited access
Enjoy your first month for just £1 / $1 / €1
*Read 5 free articles per month without a subscription
Join now for unlimited access
Try first month for just £1 / $1 / €1
Paul started writing for Cycling Weekly in 2015, covering cycling tech, new bikes and product testing. Since then, he's reviewed hundreds of bikes and thousands of other pieces of cycling equipment for the magazine and the Cycling Weekly website.
He's been cycling for a lot longer than that though and his travels by bike have taken him all around Europe and to California. He's been riding gravel since before gravel bikes existed too, riding a cyclocross bike through the Chilterns and along the South Downs.