Whatever you ride, the 20th anniversary Cycle Show is the place to be
London's Alexandra Palace becomes the centre of the cycling world from 21-23 April 2023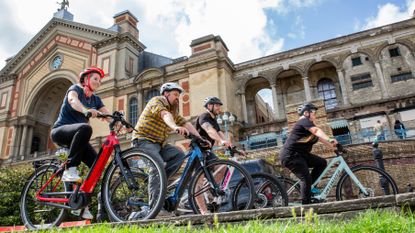 (Image credit: The Cycle Show/Immediate Media)
Whether you're a roadie or an MTB enthusiast, ride your bike for the daily commute or just for fun at the weekend, the Cycle Show will have something for you.
The UK's leading cycling show reaches its 20th anniversary this year, and the event promises to be a spectacular three-day celebration of all things bike. Taking place in the iconic surroundings of London's Alexandra Palace, the event – which runs from Friday 21 until Sunday 23 April 2023 – will feature world-beating cycling stars, along with the latest gear from major brands, and an epic range of exhibits and demonstrations.
The Cycle Show Stage will be your destination if you want to find inspiration from a selection of big-name professionals. This year's stellar line-up will feature Q&As with representatives of numerous cycling disciplines, including road (Philippa York, Nicolas Roche and Peter Kennaugh), track (Zoe Bäckstedt) and MTB (Tahnée Seagrave, Greg Minnaar, Kriss Kyle). Check out the guest list for more information.
Meanwhile, if you head over to the Experts Stage, you'll be able to get tips from the best in the business. Whether you're a beginner or a rider who's logged thousands of miles in the saddle, you'll be able to learn about mechanics, fitness, nutrition and more. There'll also be a stage dedicated to two of the fastest growing areas in cycling, bikepacking and gravel, with advice on top travel destinations and the best bikes you can buy.
But there's much more to the Cycle Show than talk. It's the place to go for everything that's new and exciting in the industry, from the latest bikes and gear, to exciting cycling holidays. If you're looking to give your wardrobe a refresh or pick up some new accessories for your bike, the Cycle Show is the ultimate shopping destination – there'll even be a new retail area in the Panorama Hall, where you'll be able to find great deals on helmets, eyewear, clothing and other accessories. And in the extremely unlikely event that you need a break from all that new stuff, you'll be able to get nostalgic for the old days with a display of '80s BMXs.
Where the Cycle Show really comes into its own, however, is the opportunity to test ride new bikes and gadgets. The beautiful hills and parkland surrounding Ally Pally will be transformed into numerous demo tracks where you'll be able test the latest bikes on or off road, up and down hill. There'll be the opportunity to give road, MTB, gravel, commuter, leisure, children's and electric models a spin, though you will need to book a slot in advance.
Making its Cycle Show debut this year, a dedicated cargo bike area will feature a track for testing out the latest utility bikes. And for anyone who fancies an extra challenge, there'll be the chance to power your way up the path that leads from the bottom of the park to Ally Pally – you'll climb 100 feet in a mere 262 yards, so expect your lungs to be on fire when you reach the top. Kids of all ages and abilities can also look forward to their own dedicated area outside the venue, featuring a kids' track, an MTB pump track and trial skills sessions.
Standard adult admission for the Cycle Show costs just £16 per day (in advance), but you can make your trip even more special with a VIP ticket. For £70 you get fast track entry to the show, early access to the test track timetable, access to the private lounge, a complimentary cloakroom and tea and coffee all day, and a Cycle Show gift bag. VIP places are limited, however, so book now to make sure you don't miss out.
And – last but not least – you can rest assured that cycling to and from the Alexandra Palace event is most definitely an option. The Cycle Show will have its own fenced bike park, where the dedicated team will keep an eye on your bike. That means you'll be able to enjoy the show without worrying about your pride and joy, allowing you to devote your full attention to the bikes you want to ride next…
For more information on the Cycle Show and to book tickets, visit www.cycleshow.co.uk